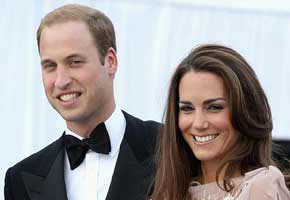 People reveals that The Duke and Duchess of Cambridge can now call Kensington Palace "home."
The royal couple — who took in a showing of Bridesmaids at their local North Wales cineplex last weekend — will reside in a "modest two-bedroom, one bathroom apartment" whenever they're visiting London. Kate spruced up the place with perfumed candles and stylish pillows ahead of their recent North American jaunt.
In other royal-related news:
• When Zara Phillips ties the knot with Mike Tindall at the end of this month (July 30), one family member that won't be in attendance is her half-sister, Felicity Tonkin. The New Zealand native — who's dad is Princess Anne's ex, Mark Phillips — isn't in contact with her sister or half-brother, Peter. Her grandmother, Dr. Shirley Tonkin said that she'll most likely ignore the royal wedding festivities, adding that "she's very happy leading her own life."
• After being thrust into the spotlight following her sister's royal wedding, Pippa Middleton is looking to repair her relationship with former financier Alex Loudon.The two supposedly called it quits this spring, but were later spotted enjoying each other's company at Wimbledon in June. According to one source, they'll soon jet off to the small West Indies island of Mustique for some quality time.
"They're still together but need time alone," an insider told The Sun. "Pippa hopes this break will get them back on track. After all, it worked for Kate when she and Wills hit the rocks in 2007."
Read More
Filed Under: