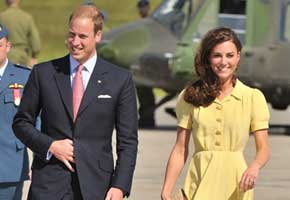 Fresh from their private getaway at Skoki Lodge in the Rocky Mountains, Prince William and Kate arrived in Calgary, the last stop on their nine-day Canadian royal tour, on Thursday (July 7).
BBC News reports that the royal couple were given white, custom-made "Smithbilt" cowboy hats, a traditional welcome gesture that "Cowtown" is famous for. Here's hoping Wills and Kate have them on during Friday's (July 8) annual Stampede rodeo — "the greatest outdoor show on Earth — which will see them taking in some bull riding and chuck wagon racing alongside Canadian Prime Minister Stephen Harper.
Earlier this afternoon, the Duke and Duchess of Cambridge paid a visit to the University of Calgary's Ward of the 21st Century (W21C) and Research Centre, where they were introduced to "'Stan,' a cutting-edge learning tool for doctors and nurses."
In other royal-related news:
• While there's been some discussion that William and Kate might stay at the legendary Beverly Hills Hotel when they land in the City of Angels on Friday (July 8), The Daily Mail reports that Los Angeles-based British Consul-General, Dame Barbara Hay, may be hosting the royal newlyweds at her lavish "Mediterranean-style" pad.
• Speaking of Wills and Kate's L.A. trip, David Beckham, Oprah Winfrey and Sylvester Stallone will reportedly be in attendance at Friday's charity polo match (check out the jerseys!) at the Santa Barbara Polo Club. The couple may also rub elbows with the likes of Tom Hanks and Steven Spielberg, and possibly Jennifer Lopez and Marc Anthony, at Saturday's (July 9) "BAFTA Brits to Watch" party.
• In London on Wednesday (July 6), Prince Charles and Camilla were on hand at the Natural History Museum's unveiling of a memorial dedicated to 155 Britons who perished in the 2004 Indian Ocean tsunami.
Read More
Filed Under: