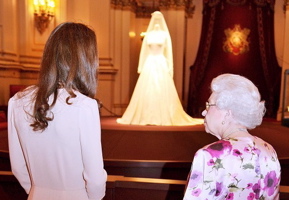 Queens say the darndest things.
Months of planning went into the royal wedding exhibit that opens at Buckingham Palace tomorrow, and at the center of it all is the world's most famous dress, the Sarah Burton/Alexander McQueen creation that Kate Middleton wore when she married Prince William.
And when Queen Elizabeth saw how it was displayed today, she was, well, not amused.
"It's horrid, isn't it?" she said to the Duchess of Cambridge. "Horrible, it's dreadful."
The Telegraph reported that the Queen added: "It's made to look very creepy."
Kate apparently responded by explaining that the display was going for a "3D effect."
There's definitely something odd, even unnerving, about the appearance of the dress in such a lifeless setting, especially when the woman who wore it is right there, looking at it.
"Standing inert and empty, it looks a little ghostly," said the BBC's Nicholas Witchell. "A bridal gown minus a bride, a diamond tiara minus a head."
Here's how the BBC reported the visit:
In other royal-related news:
• So, you want to tone up like Pippa Middleton? Next year, you'll be able to learn from her pilates teacher. Margot Campbell, who runs the Pilates on the Go center that Pippa attends, has just signed a book contract, reports Hello! magazine. And Pippa offered a glowing recommendation:  "My Pilates sessions have become a weekly necessity that keeps me fit, happy and energized," she wrote on the center's website. "Over the past few months I have noticed a huge difference in my core strength and posture."
• The Windsor Express reports that a pub has renamed itself in honor of Kate Middleton. The former B Bar in Windsor (yes, the town with the castle) now calls itself "The Duchess of  Cambridge." Manager Oliver Shinn said, "We could not have a more up-to-date image than to be named after the newest royal bride only a few weeks after the wedding."
Read More
Filed Under: