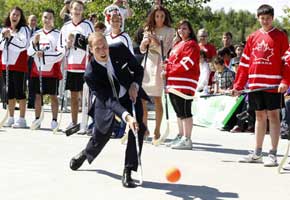 Despite flawlessly landing a Sea King helicopter on water at Prince Edward Island yesterday (July 4), Prince William failed to a net a goal during a street hockey game in Yellowknife on Tuesday (July 5).
Kate kicked off the "shinny" game by dropping the orange ball, but passed on participating due to being in some very, very high heels. Afterward, she and William were both presented with Canadian hockey jerseys, with their royal name emblazoned on the back, at Somba K'e Civic Plaza in the Northwest Terrritories' capital city, The Daily Mail reports.
Day 6 of The Duke and Duchess of Cambridge's first official overseas trip also saw them conversing with many of the area's Aboriginal people. The Prince's attempt at saying "thanks" in both the Dene ("Mahsi-cho") and Inuvialuit ("Kay na nuck-puck") dialects during his English-French speech with was met with thunderous applause.
Later today, the royal couple will embrace the Yellowknife wilderness, traveling to the "picturesque Blachford Lake" by float-plane. While there, they will meet with "young rangers for a campfire, before rowing themselves by canoe to a nearby island for a private BBQ."
In other royal-related news:
• While his cousins, Princesses Beatrice and Eugenie, might be massive gleeks for Glee, Prince Harry apparently is not. When attending the Wireless Festival in Hyde Park over the weekend, Harry revealed: "Glee? Nah, I don't even like Glee."
• Speaking of Prince Harry, the 26-year-old British Army Captain attended a lecture on the 1879 Anglo-Zulu War at St. James Palace earlier today (July 5). The Daily Mail reports that Harry gave a short speech in support of the Help for Heroes charity, which works with Britain's wounded military personnel. "It is important no cloudy romanticism surrounds stories about war," stated Harry. He is expected to return to active duty sometime next year.
• It seems that several of The Queen's residences are dealing with some serious maintenance issues. For example, the roof at Buckingham Palace is reportedly in bad shape, while its heating system is quite outdated. Fingers crossed, Queen Elizabeth is hoping the British government will help. "The monarch currently receives £11.9 million ($19.1 million) a year from the public purse to maintain and repair her homes which include Windsor Castle and St. James's Palace," The Daily Telegraph reports. "But because of a pay freeze she can only carry out emergency repairs to the buildings and says she will need more money to stop the royal households from falling into disrepair."
Read More
Filed Under: