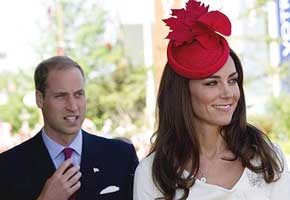 On Day 2 of her and Prince William's first official royal tour, Kate Middleton certainly dressed for the occasion when stepping out for Canada Day on Friday (July 1).
BBC News reports that the Duchess of Cambridge went with her white "Nanette" Reiss dress, which she wore in one of her and William's official engagement portraits, for today's celebratory events. A bright red maple leaf fascinator, red heels, and The Queen's maple leaf pin completed her look.
When visiting the Canadian Museum of Civilization just outside of Ottawa, she and William handed out national flags to 25 new Canadian citizens. Later on, an enthusiastic crowd of 300,000 welcomed the royal newlyweds to Parliament Hill, where William commemorated Canada's 144th birthday with a thoughtful speech. He also paid tribute to Kate's late grandfather, Royal Air Force flying instructor Peter Middleton, who trained in Canada during WWII.
http://www.youtube.com/watch?v=EZ7UofK9A5Y&feature=player_embedded
In other royal-related news:
• Gugu Mbatha-Raw (Doctor Who, Undercovers), Owain Yeoman (The Mentalist), Talulah Riley (Inception, Pirate Radio) and Harry Lloyd (Game of Thrones) are just a few of the many Brits that will mingle with Will and Kate at next week's black-tie "BAFTA Brits to Watch" party in Los Angeles. For a complete guest list, check out The Hollywood Reporter.
• While she enjoyed some Wimbledon fun with her on-off beau, Alex Loudon, earlier this week, Pippa Middleton watched Serbia's Novak Djokovoc defeat France's Jo-Wilfried Tsonga with George Percy, her former college flame, on Friday afternoon (July 1). The Sun reports that Princess Beatrice and her father, Prince Andrew, also enjoyed a couple of today's matchups from the royal box at Centre Court.
Read More
Filed Under: