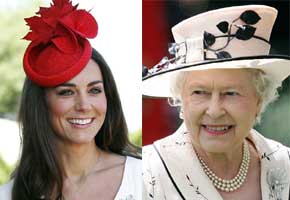 Now that Kate is an official member of the royal family, The Queen has asked her and Prince William to Balmoral for a weekend holiday this August. It's being said that the 85-year-old British Monarch would like to spend some quality time with her grandson's new wife.
According to The Daily Telegraph, Kate will partake in movie nights, picnics, and Prince Philip's steak-and-sausage barbecues.
"This is quite an important visit for Kate because, believe it or not, The Queen does not really know her very well at all," said Ingrid Seward, editor in chief of Britain's Majesty magazine. "Kate has never had an invitation before to stay at Balmoral – but she is family now and The Queen wants to get to know her."
She continued: "It is an important visit in many ways – not least because The Queen will want Kate to meet all the staff – one day she will be responsible for them. There will be a three-line whip on to introduce her to everyone. The Queen needs to present Kate to Scotland. The time has come."
In other royal-related news:
• After their momentous visit to Los Angeles earlier this month, The Duke and Duchess of Cambridge are reportedly eyeing opportunities to become "British business ambassadors."
"It is not something that William or Catherine had done before L.A., but they have genuinely enjoyed being ambassadors for the UK and flying the flag for British business in America, and it is definitely something they will start to do more of," a royal aide told The Daily Telegraph. "It will not always be about just going to realms in the future. They will now start to visit countries of strategic importance to the United Kingdom with the purpose of meeting the Foreign Office's commercial objectives. Just as the Prince of Wales regularly meets with corporate and environmental leaders during his overseas tours to highlight British trade and investments, so the couple will begin to emulate this approach through the prism of their own interests."
• Speaking of the royal couple's L.A. trip, Downton Abbey star Jessica Brown-Findlay was just one of the many celebrities who got the chance to chat with Wills and Kate during the "BAFTA Brits to Watch" party. And during her brief meeting, she learned that the royal couple regularly tune in to the popular British period drama, which runs on PBS here in the U.S. Aww, can't you just picture them, snuggled up on the couch after a hard day's work, discussing all the drama that goes on in the Crawley household?
• Prince William's longtime homie Snoop Dogg — who so generously dedicated "Sweat" to William ahead of his April 29 nuptials — tells The Sun that he may come up with a slick new rhyme for Wills and his new bride. Something that's more appropriate, ahem, for behind closed doors.
• The Daily Mail reports that Zara Phillips has been firmly advised to nix a $800,000 (£500,000) photo opp with Britain's Hello! magazine. Buckingham Palace says her July 30 ceremony will be a "private, family affair."
• Queen Elizabeth II paid tribute to a host of WWII mathematicians and cryptographers who deciphered Nazi Germany's complex communications codes during a special ceremony at Bletchley Park on Friday (July 15), The Associated Press reports a stone memorial emblazoned with the words "We also served" was also unveiled.
Read More
Filed Under: