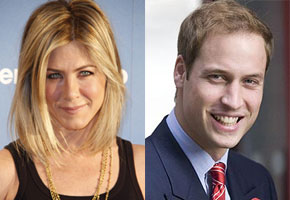 Jennifer Aniston is giving it up for the bald guys out there. Especially Prince William.
When visiting London's Capitol FM recently, the 42-year-old actress raved about the royal newlywed's receding hair line and told host Lisa Snowden that he should really ignore all that monotonous chatter about getting hair plugs.
"I think he should just let whatever is happening, happen," she said. "If we see him with hair we're going to be like: 'Oh, he had a hair transplant.' Look at Ed Harris. Come on… gorgeous!"
Right on, Jen! After all, bald is beautiful, right?
In other royal-related news:
• Prince William already presented Kate with his mother's blue oval sapphire and diamond engagement ring last November. Now he's given his missus Princess Diana's favorite diamond and sapphire earrings. Kate, who refashioned the set in a drop style, wore them during her and Wills' recent trip to North America.
• Uh oh! Pippa Middleton failed to park her convertible BMW Z4 in the right spot near her Chelsea abode recently. Metro reports that the $65,000 (£40,000) vehicle got the boot.
• Speaking of Miss Pippa, The Daily Mail has snaps of Kate's little sister when she was an impressionable and athletic 13-year-old.
• And the winning eBay price for Kate's 2001 Volkswagen Golf is… an estimated $78,000 (£48,100). The listing, posted by owner Sonny Brazil just under two weeks ago, earned 23 bids.
• Stefano Gabbana, one-half of the Italian fashion duo Dolce & Gabbana, reveals that a Pippa Middleton impersonator punked him on Twitter. He explained to Vogue UK: "For a few days I tweeted with a certain Pippa Middleton, and I really thought it was the Pippa Middleton. Then I discovered it was a fake. But the person who had thought up the concept was nice. It was kind of genius in its own way."
Read More
Filed Under: