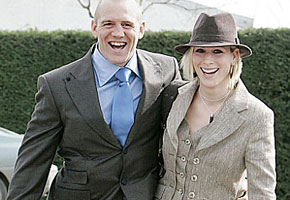 Edinburgh is gearing up for tomorrow's royal wedding of Zara Phillips, granddaughter of Queen Elizabeth, to rugby star Mike Tindall.
The BBC reports that the Queen and Prince Philip are expected to attend, as are Prince Charles and Camilla, Prince William and Catherine, and Prince Harry, as well as Prince Andrew and his daughters, Princess Beatrice and Princess Eugenie.
But the event, taking place on Edinburgh's Royal Mile, will be very different from Kate and William's spectacular ceremony in April. Technically, Zara's and Mike's wedding will be private, with Canongate Kirk, the church where they will be married, off limits to the press and public.
The wedding reception will be held in the Palace of Holyroodhouse – the official Scottish home of the Queen.
The Edinburgh Police security chief told The Scotsman that turnout "in some ways is quite difficult to predict." Superintendent Ivor Marshall said, "Given the couple's status as well-known sports stars, the fact many of their guests are going to be well-known, and the fact Zara is a member of the royal family, that's going to draw people to the event and we are preparing for that."
It's the first royal wedding in Scotland in two decades, since the second marriage of Princess Anne, Zara's mum, to Timothy Laurence.
In other royal-related news:
• The mother of groom Mike Tindall told the Daily Mail that her son is so happy that he wouldn't care if his royal bride worked as a cashier at a supermarket.
Though that's not an especially likely career path for Zara, thirteenth in line for the throne of England, Linda Tindall said, "Many-a-time Mike has said if she worked at Tesco at the checkout it would not matter, it's about her and the sort of person she is."
• As it's been reported, there will be a pre-wedding reception tonight, in just a few hours, on the famed Royal Yacht Britannia. It has not been confirmed whether the Queen will attend, but, writes the Telegraph, "If she does, one can imagine it will be with very mixed feelings." When the yacht was decommissioned and made into a public tourist attraction in 1997, the ceremony marking the event was the only time the Queen was ever seen to cry in public. "Britannia is the one place I can truly relax," she once said.
In addition to being the conveyance of choice for royal honeymoons, the ship has transported such world figures as Ghandi, Winston Churchill, Mikhail Gorbachev, Ronald Reagan, Boris Yeltsin, and Nelson Mandela. In 1986, the Britannia rescued 1,000 people from Yemen, then ravaged by battle, and, in 1997, the ship was in Hong Kong for the handover.
• We don't really have an opinion about the fact that there's going to be a comic book featuring Prince Harry next month, but c'mon, can't they come up with a better title than The Royals: Prince Harry? What about The Buckingham Avenger? The Dark Royal? Prince of the Realm? Party Man? Guess not, because it's supposed to be a serious re-telling of the Prince's life so far that includes, according to its publisher, Harry's "upbringing with his mother Princess Di and his father Prince Charles, to his wild partying and his military experience."
E! Online didn't much care for the visuals: "What happened to Prince Harry's face? (Not to mention his hair!)" asked the website, noting, "We never noticed how much Prince Harry resembled George W. Bush. And Tintin."
• Imagine France replacing "La Marseillaise." Or Australia getting rid of "Waltzing Matilda." The Master of the Queen's Music thinks it might be time to retire England's national anthem, "God Save the Queen." Sir Peter Maxwell Davies calls the song "very boring" and would like to see "something a bit more stirring."
"God Save the Queen has always struck me as having a very flat tune," Sir Peter said, "and, indeed, it normally comes out sounding like one long 'derrrrrrrrrrrr'." That's not how we'd hum it — it would be more like "dum-dum-dum-DUM-dum-dum," but then again, we're not royal musicians.
"It would be a lovely idea to start from scratch and come up with a whole new anthem," suggested Sir Peter. "I don't know if I am the one to write it, but it's a thought." (via The Telegraph)
Read More
Filed Under: