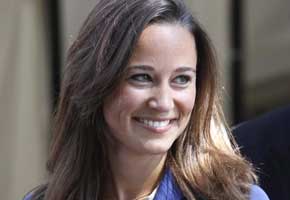 Ever since she stepped out in that white Sarah Burton-designed bridesmaid dress at her sister's wedding in April, the world has been completely head over heels for Pippa Middleton. Royal superfans always want to know what she's wearing and who she's hanging out with. Her famous bum got its own Facebook page for chrissakes, so it should be of no surprise that the brunette beauty will be the subject of a primetime TV special.
Metro reports that TLC will touch upon some of the Pippa pandemonium in Crazy About Pippa, which premieres Tuesday, August 9 at 9 pm ET. Some of her best mates, plus her bridal party buddy Prince Harry, will apparently divulge special details about the world's most famous royal bridesmaid. And to the cheeky Harry, Miss Pip is a total "foxy filly." Tee hee!
In other royal-related news:
• As previously reported, Dan Amboyer and Alice St. Clair star as The Duke and Duchess of Cambridge in The Hallmark Channel's upcoming TV movie, William & Catherine: A Royal Romance. Earlier this week, the pair discussed more about their roles during the Television Critics Association Press Tour, says The Hollywood Reporter. And come to find out, St. Clair's dad is in charge of The Queen's security detail. The British actress revealed that her father keeps pretty quiet about his job, so she didn't receive any inside details relating to her role.
• It was quite the picture-perfect moment when Prince William and Kate departed Buckingham Palace in his father's navy convertible Aston Martin in April. This Sunday (July 31), The Daily Telegraph reports that Clarence House will unveil it to the public for a free viewing. The special showing coincides Prince Charles' annual eco-friendly Start program.
• While we know that Zara Phillips' wedding gown will be designed by Stewart Parvin, what might her groom-to-be wearing? Might Mike Tindall wear a special kilt for the Scottish ceremony? Although he and Zara are English, paying tribute to his bride's namesake with the "blue and purple check" tartan might be lovely. The Daily Mirror reports that there's also a "blue, green and red" pattern under the Tindal name. Guess we'll have to wait until July 30 to find out.
Read More
Filed Under: