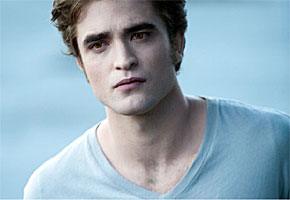 It's got to be tough playing a character with supernatural powers in a massively popular movie franchise. Oh sure, there's the money and attention and stuff, but when you get down to it, people are going to come up to you in the street, and almost without realising it, expect you to have those powers in real life. They've seen you do astonishing things on the screen, and that kind of stuff leaves a mark.
So when Robert Pattinson was approached by a young mum and massive Twilight fan, it's only natural that she would ask him to pretend to bite her baby, vampire style, isn't it? Well maybe natural's not the right word…
Anyway, here's Robert discussing the situation at Comic-Con last week.
Am I wrong in seeing an oddly frosty response from Kristen Stewart towards the end there?
Read More
Filed Under: