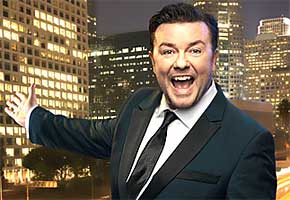 Ricky Gervais has revealed details of the TV series he'll be working on once production winds up on Life's Too Short, and, not for the first time, he's found a theme which may provoke as many people as it enthralls.
Entitled Afterlife, the premise of the show is simple: an atheist (not played by Ricky himself) who dies and goes to heaven. He's working on ideas for a pilot with Clyde Phillips, the writer/producer who brought us the serial killer drama Dexter.
He told the readers of his blog: "Dexter has consistently been my favourite show of the last 5 years. When I first saw Clyde's name all over it I knew I had to work with him one day.
"I found out he was also a fan of my work and we became friends on email and through short conversations on various red carpets. We finally started working on an idea this year and we really hit it off. I am so exited about this project."
Intruiging premise or deliberately inflammatory idea? Tell us here.
Read More
Filed Under: