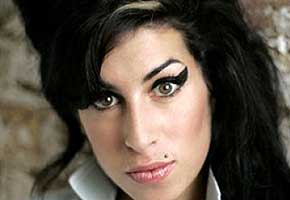 It's news that pop culture watchers had been dreading and hoping wouldn't come to fruition. Many fans of great soulful music woke up to an elbow in the stomach this morning, with the sad news that Amy Winehouse, five-time Grammy award-winning diva, had been found dead at 27, an age that has claimed so many of rock's best.
She was a star in every aspect: her quirks, her tats, her rude girl attitude, that massive beehive, and yes, her tragic story that she revealed with candor and total lack of vanity in her songs. But she wasn't a mere punchline like an Anna Nicole Smith: she had real, gripping talent to justify all of the media interest in her. Perhaps she simply couldn't handle it. Yet there was always that hope that she'd get better, becoming an addiction survivor like Natalie Cole and not a casualty like Janis Joplin. That shambolic concert in Belgrade last month was apparently a massive setback, but we still had hope. Today that hope was extinguished.
She leaves behind Back to Black, which displayed her command of an array of black music styles, both contemporary and retro. Filled with Stax horns and hip-hop bravado, the 2006 album is a stunning collection of tunes that cut to the marrow, that are as real, as literate, and as confessional as Laura Nyro's, as Marvin Gaye's, as John Lennon's, as Morrissey's. She may not have had a long career, but Back to Black is a monument and a template that generations will look to, in the same way singer-songwriters absorbed Joni Mitchell's Blue or Stevie Wonder's Songs in the Key of Life. Rest in peace, girl.
http://www.youtube.com/watch?v=UdKCBqg2hSI&feature=related
Read More
Filed Under: