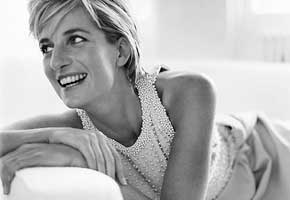 When Prince William took Kate Middleton's hand in marriage in April, William's mother, the late Diana, Princess of Wales, was not far from our minds.
And today (July 1), on what would have been her 50th birthday, "The People's Princess" is especially close to our hearts. A collection of cards, photos and other royal tokens honoring Diana decorate the gates at Kensington Palace, The Associated Press reports.
Earlier this week, we asked our Royal Insider audience on Facebook to share their thoughts and impressions of Diana. Here's a look:
Claire Grocott: She was such an inspirational woman. I think at 50, she would still be out there helping as many people as she could.
Susie Anderson Coleman: She was such a graceful, beautiful (inside and out) person… My favorite memory is of her greeting her boys, especially the one where she runs up and hugs Will on a balcony. She was an amazing mother and I can only hope to do half the job she did.
Mario Pinardi: When I was a college intern in the UK, I met her at a hospice visit I was covering. She was stunning, very real [and] genuinely kind. She knew I was an American because my royal etiquette was off. She is at peace.
Judith Leigh Willis: The quotation she often used has become very important in my life. When things seem to become too complicated and overwhelming, I remember, "Most of life is froth and bubble, two things stand in stone — kindness in another's troubles, courage in one's own." When you get to "[d']un certain age," if you have acquired any wisdom at all, you realize it really doesn't matter how many angels can dance on the head of a pin, after all.
Johanna Christensen: I will always remember her demonstrations of compassion and support for people suffering from AIDS. She didn't hold back.
Tammie Newton: She was a complex, often misunderstood human being. I got married the year after she and Prince Charles did, and my son was born a year after William's birth. I think she made a huge difference in people's lives — even people who never met her. I'm sure people from all over the world still grieve for her. Let's celebrate her life on July 1. Rest in Peace, Diana.
Robin Rosenberg Aiscowitz: She and I were three months apart in age and I thought how beautiful she was. I was too young to appreciate Jackie Kennedy, but Diana was forever young and beautiful. She would be eternally youthful, a proud mum of William and Harry and [would have adored] Kate.
Linda Messner: How wonderfully she grew from a young bride into a self-confident, beautiful woman. I believe she would still be very much involved in the causes that were dear to her heart, and that she would very much be a part of her sons' lives. She was quite an inspirational woman.
Jacqueline Carrier Croasdale: I remember seeing her drive out of her gate, [passing] me on the way to her gym (she had gym clothes on). She looked annoyed and beautiful at the same time. Seeing [the] TV later, I saw she had been on an official visit with Charles somewhere. It was a few months later that they separated. I miss her, our Queen of Hearts.
Isis Glass: I always admired her beauty, poise, demeanor during difficult times, sense of fashion, dedication to her charities, and her concern for the poor and sick, but most especially for the love and pride she had for her sons. I will celebrate her life on July 1 and will celebrate the woman she would have been at 50! Happy Birthday Princess Diana. Rest in Peace!
What are some of your most memorable impressions of Princess Diana? Tell us here.
Read More
Filed Under: