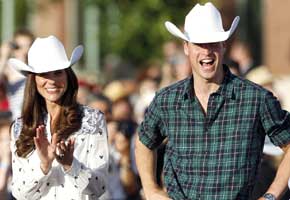 They look pretty good in cowboy hats, don't they?
Prince William and Kate brought their nine-day Canadian royal tour to a festive close on Friday morning (July 8) when the two helped open the 99th annual Calgary Stampede.
Giving their designer wardrobe a break for some appropriate western-style attire, CBC News reports that the royal couple arrived to BMO Centre by a horse-drawn stagecoach. From there, the Duke and Duchess of Cambridge received lessons on how to properly pack a chuck wagon and watched expert bull riders work their magic in the ring.
"A week ago in Ottawa, I spoke of how much Catherine and I looked forward to getting to know Canada and Canadians," William said in a speech. "I can only say that the experience of this past seven days has exceeded all our expectations. We have been hugely struck by the diversity of this beautiful country, from Ottawa to Quebec, from Prince Edward Island to the Northwest Territories and now the excitement of Calgary."
"And what about these fantastic white hats?" he added.
Prior to jetting off to Los Angeles, Wills and Kate also toured Calgary Zoo's ENMAX Conservatory.
Read More
Filed Under: