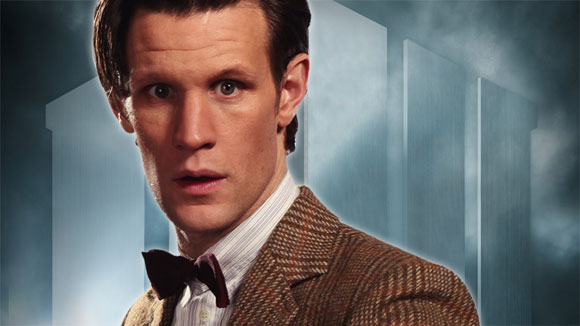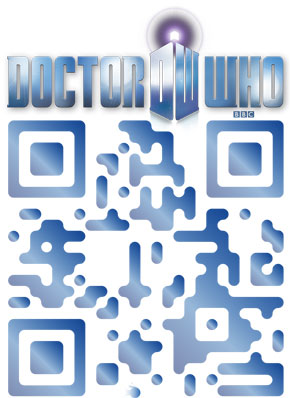 MESSAGE FROM BBC AMERICA: If you're attending Comic-Con in San Diego this year, things just got more exciting! BBC America has launched their "Doctor Who's Clues QR Scavenger Hunt," offering attendees a chance to win a prize pack of must-have Doctor Who goodies by finding and scanning exclusive custom Doctor Who QR codes all over the San Diego Convention Center.
How does this all work? Be on the lookout once you step out of your TARDIS in San Diego. Find the QR codes, which will be scattered at key Doctor Who locations on the Exhibition Floor. (Lucky ticketholders for "BBC America Presents: Nerdist Podcast Live" on Saturday, July 23 will also find a special code posted at 4th and B that night, too.) After locating a code, scan it with the handy QR barcode reader on your smartphone, and voilà, you're entered for a chance to win one of those jam-packed Doctor Who prize packs. And don't stop after you've found your first code. The more you find & scan, the more you're entered to win – so keep hunting to find all the check-in points.
On your above right, you will find the kick-off code. Scan it, and you're well on your way to victory and entered for a chance to win. (Or text COMIC to 23000 if you don't have a scanner.)
Due to crowds, the Comic-Con Exhibition Floor can be tough to navigate, so BBC America's making it easy on you. Below is a handy map with all of the locations where you can find the codes. (Click to enlarge.)

What's in those gotta-have Doctor Who prize bags? Well, they're loaded with special Doctor Who products – from prize partners including Abby Shot, Bif Bang Pow, Diamond Comics, GB Eye, IDW, Ripple Junction, Titan, Underground Toys, Unemployed Philosopher's Guild, and Quantum Mechanix. As cool as a bowtie, no doubt! Find, scan & win!
No purchase necessary.  The giveaway is only available to US residents of at least 18 years of age.  Void where prohibited.  For a complete list of rules visit http://bbca.me/bbcaqrrules
Read More
Filed Under: