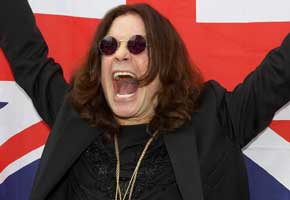 Today marks the 63rd anniversary of the creation of a truly wonderful British institution, the National Health Service, which was unveiled as part of the post-war Labour government's utopian dream of a welfare state, paid for by contributions from everyone's wage packet.
It was a controversial launch, against some stiff opposition from the medical establishment of the time, and the NHS has long since grown used to being the whipping boy for political arguments of every stripe. Nevertheless, lives have been saved, injuries treated, and as we mentioned last week, it occupies a very special place in British affections.
But don't take my word for it, ask Ozzy Osbourne, who was among the first babies to be born into the NHS era (he'll be 63 in December), and has had plenty of reasons to visit his local hospital since then, not the least of which was the 2003 quad bike accident that left him with a fractured neck vertebra, eight fractured ribs and a broken collarbone.
He offered this birthday greeting, via the Press Association (and possibly with a touch of humor): "If it wasn't for the hard-working staff of the NHS following my serious quad bike accident, I may not be here today to continue my career as the Prince of Darkness."
"I want to say a big thank you to all of the dedicated doctors, nurses and everyone else who makes up the NHS across the country – from Birmingham to Berkshire. Just like me, it's still going strong after 63 years. Long may we both keep it up."
And who could argue with that?
Read More
Filed Under: