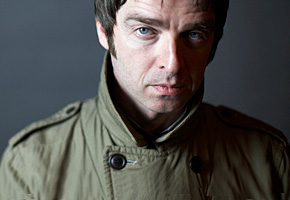 After Oasis split up, two very different work ethics came into play between the Gallagher brothers. Liam, in the same act of defiant ain't-brokery that saw Oasis stick very closely to the shallow end of their musical rockpool for over 10 years, simply reformed the band without Noel and kept going.
For his part, Noel took some time out, kept his own counsel, and went off and recorded two albums: one relatively normal affair, songs and melodies and suchlike, and one psychedelic freakout, given a whooshy production workover by the Amorphous Androgynous (the sonic wizard alias for the techno band Future Sound of London).
Yesterday at a press conference, Noel announced the October 17th release of the first album, entitled "High Flying Birds," and went on to explain exactly what happened at the Paris concert in 2009, which convinced him that his time at the right hand side of Oasis's stage was finally at an end.
Describing a row which seemed to have started before the tour over the issue of Liam advertising his Pretty Green clothing range in the Oasis tour program, Noel admitted: "I hadn't had enough of Oasis, I had had enough of Liam.
"He was quite violent. In Paris, he stormed out, and on the way out he picked up a plum and threw it across the dressing room and it smashed against the wall. Part of me wishes it had ended like that. It would've made a great headline: 'Plum throws plum.'"
Sadly, it did not end with flying fruit: "He came back with a guitar and started wielding it like an axe. It was real unnecessary violent act – he was swinging his guitar around. He nearly took my face off with it, you know.
"I said 'you know what, I'm out of here.' I sat in the car and thought 'f**k it, I can't do it any more'. I regret it really because we only had two gigs left."
For his part, Liam said one word yesterday, on his Twitter feed: "S***bag"
Here's the full video of the press conference. It's quite long and a little NSFW, wordwise:
Is it just me, or is Noel at his best when he's just talking about stuff?
Read More
Filed Under: