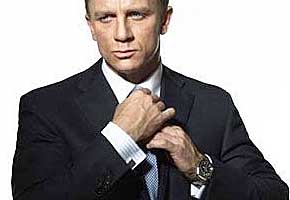 • When Daniel Craig met Clint Eastwood… while wearing a leotard.
• And speaking of Craig, his new wife, Rachel Weisz, is the face of Bulgari's Jasmin Noir fragrance. Fabulous!
• Benedict Cumberbatch and Martin Freeman on the Sherlock set. Our day is officially made.
• You remember a while ago we told you about a mass zombie invasion in Leicester, which was arranged to prove that the city had no provision in place should such an event occur? Well Bristol has gone one better.
• Cheryl Cole may be making a return to the UK X Factor. But, and we really can't stress this enough, she may not.
• There's a new exhibition planned at the Victoria and Albert Museum, based around the former belongings of Annie Lennox of the Eurythmics. It'll open in September and feature old stage costumes, photos and the like.
• It's a sad day for EastEnders fans, as the actress Pam St. Clement, who plays Pat Butcher, has announced she'll be leaving after 25 years.
• We already told you that Muse wants to rock it out in space. And now, frontman Matt Bellamy is hoping aspiring spaceman, Virgin mogul Sir Richard Branson, will give 'em a free ride on his Virgin Galactic spaceflight.
• The Branson news doesn't stop there. The British billionaire is reportedly going to relaunch the Virgin Radio brand, and in the process give Jonathan Ross his own morning chat show.
• Elizabeth Hurley and Gossip Girl? Yep, the English model/actress will head to New York City's Upper East Side this fall.
• David Beckham is certainly a proud daddy, but he's also a sneaky husband. When his gorgeous wife, Victoria, was soaking up the sun recently, he took her photo, bare belly and all. And he posted it to Facebook.
• Oh and the baby love doesn't stop there: Torchwood: Miracle Day star John Barrowman is thinking about adopting.
• It's all fun and games on the set of Life's Too Short, says Warwick Davis.
Read More
Filed Under: