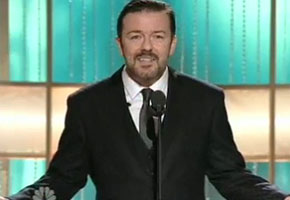 • Ricky Gervais may have taken his fair share of crap for his caustic delivery at this year's Golden Globes, but that didn't stop Emmy voters for nominating the 68th annual awards show in the Outstanding Special Class Program category. And should the Globes indeed win when the Emmys air on Fox on September 18, Gervais would earn himself a shiny statuette as well. Only thing is, he wants someone else who's equally controversial to pick it up for him. Sounds about right.
"I'd like Charlie Sheen to accept my Emmy if I win for hosting the Golden Globes," the British funnyman recently told Gold Derby.
And how did he ever coerce the Emmy people into it? He joked: "I took every Emmy voter in America to see Cher in concert. It cost me a million, but it was worth it. Apparently, she's still alive. She even older than those Sex and the City gals. In fact, she played their mum in Bonanza."
• Lily Allen has had to put to bed rumors that her clothes shop Lucy In Disguise is in financial trouble after it moved location from Covent Garden to Soho. It turns out the first shop was just what Lily calls a "pop-up shop," which was only ever intended to be open for nine months. Let's hope the Soho shop can stay up for a bit longer. (via Marie Claire)
• Speaking of Lily, Sir Elton John is raving about her songwriting contributions to the upcoming Bridget Jones' Diary musical, which is slated to debut in London's West End next year.
John told Music Week: "That's an incredibly exciting thing for her, an amazing step for an artist to write a full musical, especially one so young, but I think Lily is Britain's best lyricist and she's taken this mantle on which is not easy when you're young."
• Joanna Lumley is so determined to become one of the cast of Julian Fellowes' superlative period drama, Downton Abbey, that she has resorted to bullying the writer into giving her a part. She says: "I can't measure how much I want to be in it. But I have had a word with the writer (Fellowes) and I put his arm behind his back – and I'm certain to be in one of the future series.
"I didn't see it when it came out because I was in the States. So I came back and sat down to watch all the episodes one after the other, like eating a box of chocolates." (via Contact Music)
• Proud momma Victoria Beckham has taken to Twitter to share two adorable black and white photos of her and David's newborn daughter, Harper Seven. Both look to be completely smitten with her, of course, while one close-up reveals Harper's full head of dark hair.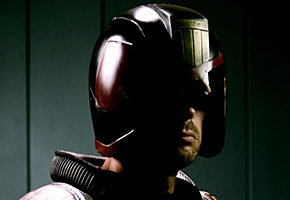 • 2000AD fans will be experiencing a simultaneous joy and fear-gasm today, as pictures from the set of the new Judge Dredd film have been released. The film will be called Dredd, it stars Karl Urban as the 25th Century futurecop, and it's been written by Alex Garland, who also wrote The Beach. Trouble is, there has already been a Judge Dredd movie, starring Sylvester Stallone, and that sucked. So, let's just chalk this up to pleasant early days and keep our fingers crossed for now, shall we?
• Strong rumors from the Twitterverse suggest that Cheryl Cole is once again working on some new music, this time with Far East Movement and Lil Wayne, thanks to an intervention from her manager, Will.I.Am. (via MTV News)
Which is just as well, because there are also strong rumors that her ex-husband, English footballer Ashley Cole, is once again up to his old tricks. The pair has reportedly considered getting back together in recent weeks, so the kiss-and-tell The Daily Mirror published over the weekend will not have been gratefully received in the Cole household.
• We have some Bond 23 tittle-tattle for you… Welsh actor Rhys Ifans has reportedly been cast in the 2012 installment. Rhys and Daniel Craig, together again after 2004's Enduring Love? Thank you Sam Mendes.
• The Who's Roger Daltrey has waded into the controversy over U2's alleged tax-avoidance in their home country. Despite assurances from The Edge that the band have not done anything illegal by moving the financial base of their operations out of Ireland and into Holland, Rog is having none of it. He told the The Daily Star: "I find it very interesting that people who spout socialism don't want to pay for a socialist state."
• Katy Perry and Russell Brand want you to know that they're not splitting up. Just because they haven't been snapped up by the paparazzi on a daily basis doesn't mean they're dunzo. For chrissakes, the Brands have been living very busy lives lately; she's on tour and he's working on Rock of Ages. But they looked lovely together whilst biking through New York City earlier this month. Anyhow, Perry took to Twitter over the weekend to dismiss the gossip mill's new "gross" claims that they're on the outs. And not surprisingly, Brand dashed to his lady love's side in support.
Read More
Filed Under: