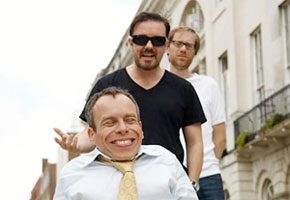 • Ricky Gervais has issued a stout defense against anyone who thinks his new sitcom Life's Too Short pokes fun at short people. The show stars Warwick Davis as the corrupt boss of an acting agency that specializes in dwarf actors.
He explained to WENN (via IMDB): "This is nothing to do with his height. We're not getting jokes out of him being short all the time, we're getting jokes out of him being militant or ripping off other dwarves. He runs an agency, both in real life and in this one. In this one it's called Dwarves for Hire and of course he's just ripping them off. He's getting all the best jobs for himself and he treats them like commodities and props.
"It's not the real Warwick Davis, he's not really like that. We've created a character here, a little Mussolini. And it's not all jokes about his height, it's much more about his character."
• Tom Felton, the actor otherwise known as evil Draco Malfoy in the Harry Potter films, showed his kind side to all the fans waiting outside Lincoln Center in New York City last night (July 11), by hand-delivering pizza to them. (Female First)
• Over the weekend, The Guardian's Observer was running a feature on little-known Harry Potter facts, and they came up with this doozy. When Alfonso Cuarón directed Harry Potter and the Prisoner of Azkaban, he set the three principle leads a challenge. He asked them to write an essay about their character. Daniel Radcliffe turned in a passionate 10-pager on Harry, Emma Watson meticulously researched a 30-page novella on Hermione, but Rupert Grint didn't hand in an essay at all. And why?
"I'm doing what Ron would do."
• Now that David and Victoria Beckham have added a daughter, Harper Seven, to their all-boy bunch, it sounds like they're done procreating. An insider told The Sun: "With three great boys and now a beautiful girl Victoria is insisting their family is complete."
• Speaking of babies, Muse's Matt Bellamy and Kate Hudson are requesting that family and friends plant "celebration trees" in honor of their new son, who was born last weekend. The celebrity couple would like their child, as well as kids around the globe, to "live in a greener world."
• James Corden has spent the last several weeks wowing patrons in the National Theatre's One Man, Two Guvnors. Come this November, the cheeky Gavin & Stacey star will likely do the same when the production opens in the West End. (TheaterMania)
• John Barrowman hopes Captain Jack Harkness and the rest of the Torchwood gang will one day land on the silver screen. Oooooh, yes please!
• Meanwhile, in China, a man called Lui Peiwen is walking 1,000 miles in order to propose to his girlfriend. She had joked that she would only say yes if he acted out the lyrics to her favorite song by The Proclaimers, which of course require that he walk 500 miles, and then 500 more. He took her seriously. Her response? "He is such a fruitcake." (Metro)
• Roxy Music star Bryan Ferry has revealed that his health scare earlier this year was due to arrhythmia, rather than anything more immediately life-threatening.
• British actress Tilda Swinton says she had no idea her Oscar win in 2007 was a big deal, because she'd never seen the ceremony on TV before. Can this be true? (Contactmusic)
• Pixie Lott will drop her sophomore studio effort this November. And joining the "Boys and Girls" singer in collaboration are John Legend and Stevie Wonder.
"I'm a massive fan of John Legend so I was really really excited and happy about that," Lott told BBC Newsbeat. "I've been such a massive fan [of Stevie Wonder] for so many years, it's crazy to actually see him in the flesh. I met his family and his wife, I spoke to him for a while and he's such a legend."
Read More
Filed Under: