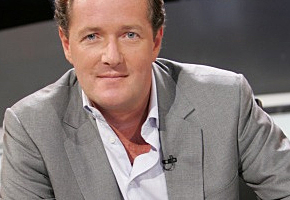 Piers Morgan has been quick to publicly distance himself from any allegations of mobile phone hacking, dating from his time as the editor of the News of the World, and subsequently The Daily Mirror. However, two short years ago, when he appeared on BBC Radio 4's deathless Desert Island Discs, he gave a rather different answer. Having been asked how he felt about all the bin-digging and the phone-tapping associated with the tabloid press, this is what he said:
"To be honest, let's put that in perspective as well. Not a lot of that went on. A lot of it was done by third parties rather than the staff themselves. That's not to defend it, because obviously you were running the results of their work.
"I'm quite happy to be parked in the corner of tabloid beast and to have to sit here defending all these things I used to get up to, and I make no pretence about the stuff we used to do. I simply say the net of people doing it was very wide, and certainly encompassed the high and low end of the supposed newspaper market."
Now, of course, his version of events is a little different: "I have never hacked a phone, told anyone to hack a phone, nor to my knowledge published any story obtained from the hacking of a phone. I am not aware, and have never seen evidence to suggest otherwise, that any Mirror story published during my tenure was obtained from phone hacking." (via the Independent)
• Keri Hilson has managed to provoke the wrath of Twitter by posting a picture of herself, just hours before Amy Winehouse's memorial service, standing next to an Amy look-alike, with the following caption:
"*gasp* Amy Winehouse resurrected to party [with] me!!! (seriously, uncanny resemblance)."
After receiving a very thorough shouting at for insensitivity, she has now apologized. (via Yahoo!)
• Also in the bad books of Winehouse fans are Microsoft, who tweeted the suggestion that people should remember her by buying her album, Back to Black, from Zune, within 24 hours of her death. And arguably the CD store HMV, who are suggesting fans will want to buy the record on CD as a more tangible link to the troubled singer. We make no comment at this point, except to say that any tribute you may wish to make (even if it is no tribute at all) is just fine by us.
• Winehouse devotees might be thrilled to hear that her father, Mitch, will honor her memory by establishing a foundation that assists those battling alcohol. (via BBC News)
• We love a bit of data visualization here, so there were joyclaps aplenty when we discovered that Pop Chart Lab had developed a Periodic Table of Heavy Metal complete with umlauts. And it's the shape of a very familiar hand signal to metal fans.
• Steve Martin has told Q magazine a story, which bears repeating, about Mick Jagger and a rejected joke. When The Rolling Stones played during the Super Bowl in 2006, Jagger asked Martin to pitch him a few gags, so he could get a bit of repartee going with the crowd from the start. Steve, being quite subtle, suggested "please, no photographs." Mick didn't see the funny side and instead went with the more traditional rocker greeting, "how are you doing, alright?" (via Contactmusic)
• If you're waiting for Lily Allen to pull her finger out and make some more music, you might have to get used to it, cos she's far too busy feathering her nest to settle down and write songs. She recently admitted to Music Rooms: "I'm being taught how to knit. I'm so not rock 'n' roll anymore. I'm embroidering too. I'm actually in the process of making cushions."
• Geri Halliwell debuted her new fashion line of affordable red carpet gowns in London today (July 27). The Geri by Next range — which features "six full length occasion dresses" starting at $145 (£89) — will hit stores in early October.
• Chris Evans is resting up after undergoing an operation to remove some pre-cancerous growths on his colon. The BBC Radio 2 personality, whose father died of colon cancer when he was just 13-years-old, is encouraging all blokes to keep an eye on this kind of thing. "A couple of pesky potential future little problems were discovered and swiftly removed, but other than that I'm afraid you're stuck with me for a few years longer at least," he told The Sun. "And please, if you or anyone you know may have any worries down below, get them checked as soon as poss. [sic]"
• The Press Association reports that Simon Pegg will portray "a children's author turned crime novelist" in a new British film titled A Fantastic Fear of Everything. The English actor/comedian's character examines the lives of Victorian serial killers and ends up driving himself nuts because of it. Ex-Kula Shaker singer Crispian Mills is the brains behind the script. He'll also serve as director.
• Late British fashion designer Alexander McQueen has left an estimated $81,000 (£50,000) of his $26.1 million (£16 million) fortune to his two dogs, as he wanted to make sure the two beloved pets lived a life of luxury. Each of his five siblings, his godson, and several nieces and nephews also received generous financial gifts, reports BBC News.
• This October, we'll get to see the yummy Orlando Bloom play the villainous Duke of Buckingham in The Three Musketeers. The English actor dishes to Scotland's Daily Record about playing a bad guy, balancing family life with work, and much more.
Read More
Filed Under: