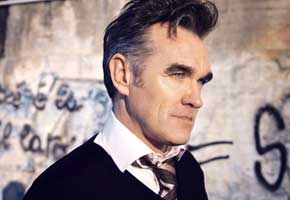 • Morrissey is a man of high standards, and clearly judges himself by the quality of his sycophants. Why else would he have wished cheerful death upon the biographer Johnny Rogan? And why else would he take to the stage wearing a T-shirt denouncing the fansite Morrissey-solo.com, using very profane language indeed? And to add insult to injury, David Tseng, the editor of Morrissey-solo.com, who flew from L.A. to Copenhagen to attend a concert, found himself surrounded by security guards and was thrown out.
To explain, the Morrissey camp issued a statement saying: "Mr. Tseng, via his poisonous website, has caused so much intentional distress to Morrissey and Morrissey's band over the years that Mr. Tseng is not welcome at any Morrissey shows." (via The Guardian)
• Matt Bellamy from Muse explains why he called his first-born son (with Kate Hudson, who calls Kurt Russell "dad") Bingham: "[It's] "my mum's maiden name and Bing Russell was Kurt's dad. Family connections all round!" (via Now)
• As we told you on Thursday (July 15), Charlie Gilmour, the son of legendary Pink Floyd axeman David Gilmour, was in a south west London court for sentencing over his disorderly behavior during last winter's student protests. Well, it looks like Charlie is heading to the slammer for 16 months. And the judge who handled the proceeding wasn't too pleased with the young Cambridge University student:
"I have to take into account that you have had many advantages which are denied to most young men who come before this court," Judge Nicholas Price QC said. "In short, you should have known better than to engage in such a criminal and reprehensible way." (via The Daily Mail)
• It sounds like David and Victoria Beckham are looking to stay put in sunny L.A., especially now that their family is complete.
"Victoria has told David she has never felt happier and that they now have the perfect family," an insider told The Sun. "She wants Harper to grow up in a place where she can have the amazing childhood the boys have had. Where they live now, they can play on the beach at [sic] the weekend, swim outdoors every day and have a great lifestyle growing up in the sunshine."
• Leona Lewis is back! Nearly! Her new album Collide is due out this fall, and promises to be her "most personal album yet."
• You may not have heard of N-Dubz, they're kind of like what would happen if Alvin and the Chipmunks grew up into some people who spend a lot of time in nightclubs, and one of them was a girl, and they wrote songs in which they take opposing views in a story, and another one of them is a rapper, and the girl one gets to replace Cheryl Cole in the British X Factor. They're like that.
So quite what they want to do with Phil Collins is anyone's guess. But their lead singer Alv…sorry, Dappy, says he wants to arrange a meeting: "I would love to collaborate with Phil Collins. There won't be anyone like him again in music. He is what '80s music was all about. He's just amazing." (via Music Rooms)
• Speaking of Cheryl Cole, she's apparently hoovered up her old X Factor winner Joe McElderry and got him a record deal with Universal. It probably helps her case that he just won another TV talent show in the UK, Popstar to Opera Star, but she appears to be motivated by a desire to show Simon Cowell he's a little too quick to dispose of people when he believes they will be of no further use to him. Can't imagine where that thought came from. (via OK!)
• Dame Helen Mirren is one saucy minx. The 65-year-old Oscar-winning actress drapes herself in the Union Jack in the August 2011 issue of Esquire.
• Speaking of fabulous English babes, Liz Hurley looks positively smashing on the set of Gossip Girl. It looks like she and Chace Crawford will be locking lips this fall.
Read More
Filed Under: