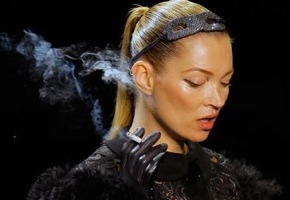 Now that we're used to knowing what people in the public eye are thinking as soon as they think it, thanks to social media and the web, it seems curiously old-fashioned to realize that Kate Moss, one of the most famous women in the world, has never really told the story of her life.
And it's not like she hasn't done interesting things: the dalliances with Russell Brand and Pete Doherty, her marriage to Jamie Hince from the Kills, Johnny flipping Depp, fascinating events all.
So, it's good to know that she's finally decided to spill the beans (as opposed to, y'know, eating the beans) and write her autobiography, says The Sun.
No, we don't know if that means writing as you or I would understand the word or writing as Naomi Campbell would, but there will be a book, and it will have stuff about Kate, written in the first person.
So, only 20 more years to wait until she joins Twitter then.
• Oh sure, you all love Daniel Craig NOW, but once upon a time he struggled to gain access to America. So much so that he ended up being interrogated by suspicious officials. (via New)
• Record producer Salaam Remi has been trying to put to bed the rumors that there is a complete third Amy Winehouse ready for release. He appeared on New York's Power 105.1 FM, and pointed out that while she did work on a lot of songs, not many of them were completed and very few of them would have passed her quality control test.
He said: "We were working on it; it's not a complete album. We had a lot of things going, there are recordings, but first things first, I think. We're trying to focus on what's at hand and what her family wants to do.
"To put it all in a nutshell, Amy loved to sing, to write… that ability never left her. She was very good at channeling her emotions into lyrics, and then being able to sing them. She was in a place to go forward and make it happen… The way that Amy and I always created was she would write and we would toss ideas around. Amy had strong opinions on everything… She was very opinionated about what she liked."
• Mark Ronson, The Zutons' Dave McCabe, Charlie Waller of The Rumble Strips, and select members of Winehouse's backing band hit the stage in London on Wednesday night (July 27) to honor their late friend in song. Check out this stunning version of "Valerie". English jazz-pop singer Jamie Cullum also dedicated Winehouse's Back to Black tune, "Love Is a Losing Game," to her during his set at the PizzaExpress Jazz Club in Soho.
• So yesterday Piers Morgan issued a very firm statement about phone hacking, including an insistence that he had never taken part in it. So what are we to make of this snippet about Paul and Heather McCartney, taken from a piece he wrote for The Daily Mail back in 2006?
"At one stage I was played a tape of a message Paul had left for Heather on her mobile phone. It was heart-breaking. The couple had clearly had a tiff, Heather had fled to India, and Paul was pleading with her to come back. He sounded lonely, miserable and desperate, and even sang "We Can Work It Out" into the answerphone."
Interesting, eh? (via NME)
• Having managed to keep their differences to themselves in the two years since Oasis split up, the brothers Gallagher are airing their differences in public. Noel has already put his version of events forward, now Liam wants the right to reply. (via MTV Canada).
• Luckily, Noel can always count on the unsolicited support of Robbie Williams, should he ever need it. The Take That star has offered to write songs with him. Can't imagine that an answer will be long in coming, or that it will be very polite. (via Heat)
• Speaking of Take That, singer Gary Barlow must be pretty well loved by his X Factor bosses. They reportedly just shelled out an estimated $16,000 (£10,000)
to fly him from tryouts at London's O2 Arena to his band's gig at Wembley Stadium. The distance between was a mere 19 miles. D'oh. (via The Daily Mirror)
• David Beckham is following his wife's fashionista footsteps by launching his own "bodywear" range for H&M. So this means we'll all be wearing T-shirts and undies designed by Becks. Um, yes please!
• Decorated thespian Mark Rylance has gifted his Tony Award, which he won in June for his stint in the Jez Butterworth play, Jerusalem, to a Wilshire man by the name of Micky Lay. Rylance says Lay was quite generous with his time and research efforts in explaining the Johnny "Rooster" Byron character.
• How do you prefer Ricky Gervais: In clown makeup or in a Jesus Christ pose with a microphone?
• Spanish movie director Pedro Almodovar is a big admirer of Brits on film. His wish list includes Dame Helen Mirren and Kate Winslet (via The Press Association)
Read More
Filed Under: