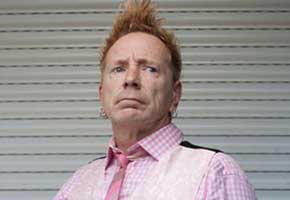 • Former Sex Pistol John Lydon took time out from accepting an award at yesterday's MOJO bash to explain to reporters that he is currently without a London home, because it burned to the ground. A faulty spin-drier is thought to be the cause of the blaze, which also destroyed a batch of songs he'd been working on for a new Public Image album.
However, Lydon, aka Johnny Rotten, brushed all this aside, just grateful that his wife, Nora, hadn't been hurt. (via BBC News)
• British singer-songwriter Ed Sheeran has announced what he believes to be the perfect plan for a Christmas chart-topper, and all he has to do is convince the extraordinarily busy Adele to help him out. He told the Sun: "I want us to do a cover of 'Don't Go Breaking My Heart'"
Well, of course you do.
• Simon Cowell appears to think other people's relationships are part of his enormous kingdom, if his comments on the recent separation of Jennifer Lopez and Marc Anthony are anything to go by: "I didn't see it coming. They always seemed to get on. They would bicker, but everyone bickers." (via MTV)
• Speaking of bickering couples, David and Victoria Beckham have been arguing, but only over which of them gets to hold their new daughter Harper. Now has a report from an inside source who says it's usually David who wins: "He's the first one to jump up and comfort Harper when she cries, telling Victoria she needs her sleep."
And now Victoria has offered to let him change all the nappies too, which is most generous of her.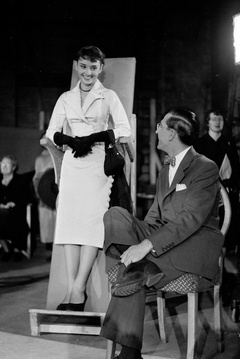 • ELLEuk.com has unearthed an interesting photo of Audrey Hepburn during the shooting of The Lavender Hill Mob. The actress is leaning on a contraption that appears to be a tilted board with armrests. (See the photo, right.) The magazine's blog couldn't be certain what the purpose of the device was, but a publicist suggested that it was used to allow Hepburn to relax without creasing her dress. The 1951 movie, which starred Alec Guinness, is being re-released in a restored version in the UK today.
• "He's a young, innocent soul who is brought into this world," said Andy Serkis, at Comic-con, about why he went ape over another, computer-enhanced role. Serkis, who played Gollum in The Lord of the Rings trilogy and the title role in the 2005 King Kong, is again playing a primate in The Rise of the Planet of the Apes.
Serkis said he was touched by his character in the film, who is raised by human beings.
"At a certain point he realizes he's not the same as the human beings and he feels like a freak, he's treated like a Frankenstein's monster," said Serkis. "He's then taken away from his family and thrown into a hardcore prison for apes. He brings this disparate group of apes together and leads them to revolution. It's an amazing journey." (via The Guardian)
• Amy Winehouse isn't getting any better at stagecraft, as her recent woozy appearance-cum-stage-invasion with her god-daughter Dionne Bromfield only serves to prove. (via Heat)
Read More
Filed Under: