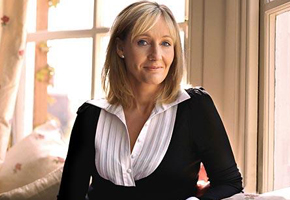 Did you hear the one about the alternative Harry Potter ending? Apparently the journalist Greg Palast has seen an alternative draft JK Rowling wrote for the very end of the Potter tales, the final showdown between Harry and Voldemort, and the final chapter afterwards. He wrote down what he could remember of it at the time, and has now polished it up and published it, as a way of saying the ending we all now know is somehow flawed for a book, fitting as it might be for a movie.
It's all here, if you haven't seen it already, but be warned, it's a bit…bleak.To cheer ourselves up, how about a story about a nice bracelet JK was given by grateful bosses at Warner Brothers? It seems they wanted to thank her for creating the franchise that has been such a money-spinner for them, so they bought her an antique bracelet worth (some) millions of dollars. (via Entertainmentwise)
• Alec Baldwin has waded into the media storm around the News of the World and phone-hacking, and the working relationship between former NOTW Editor Andy Coulson and the current British Prime Minister David Cameron. He has strong advice for Mr Cameron, and clearly feels his Twitter feed is the correct medium from which to effect lasting change.
He said: "Cameron should resign. England is filled with people who could do a better job"
And then: "For the UK…try not to be like USA. Zero tolerance for abuses like this criminal activity. Cameron should resign."
• And from that very serious note to something more bizarre: ALL the bizarre, in fact. You remember Ireland's singing twins Jedward? Well they were recently asked by OKTV about a frankly inconceivable rumour that they're about to record a song with Britney Spears (I mean she's weird, but she's not THAT weird), and their official response may just have let a cat out of a bag: "Something really cool's gonna happen on the Britney Spears tour, okay, we can't talk about it now but it's gonna happen."
Uh, so you'll be going on tour with Britney then. Good poker face, dudes. (via Unreality TV)
• The ever-aristocratic bounder Nigel Havers is set to join the cast of Downton Abbey when it returns at the end of the year. He plays an aristocrat (of course) called Lord Hepworth. (via STV)
• Anyone remember Dexy's Midnight Runners? "Come On Eileen"? Well if you do and you've been waiting desperately to hear about the new material Kevin Rowland's mob have supposedly been working on for the past… eesh… how long is it now? We have news.
The band, now called just Dexy's, have just put this one-minute snippet of their new album up on their official YouTube page. Rather sweet it is too:
Read More
Filed Under: