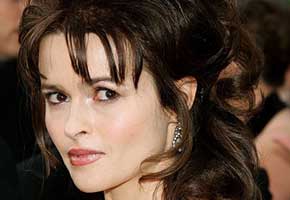 Did you hear the story about the two Hollywood A-list stars who made a pitch to the BBC TV show Dragon's Den? Well it goes like this:
Helena Bonham Carter and Johnny Depp bumped into the panel of business entrepreneurs, whose job it is to Cowell their way through a bunch of would-be business innovations, at Pinewood Studios, where the show is filmed. And as a lot of people do, they decided to pitch an idea right then and there, the Prambrella. I expect you can guess this, but it's a cross between a pram, and an umbrella, which would be useful if young mums are out and about in a rainstorm. Apparently the dragons were less than excited by the idea. And no, we're not sure we believe it either. (via the The Daily Mirror)
• The thorny (with a T, thank you) issue of Captain Jack Harkness and his ever-swelling sexuality has once again become the prime topic of conversation for John Barrowman. He's pleased, he says, that Jack isn't a gay stereotype for TV, but wonders whether it's the fact that he's voracious in every direction at once which occasionally causes controversy. (The Daily Telegraph)
• Amy Winehouse's dad, Mitch, still in the midst of grief, started handing out her clothes to the fans who've been conducting a candlelit vigil outside her London flat since she died. Mitch arrived with his wife Janis and Amy's boyfriend Reg to clear Amy's flat of her belongings, and, on the way out, stopped to offer a couple of her trademark vests to the group of fans outside. (via Contactmusic)
• Good news! Jane Horrocks will definitely be taking her place alongside Edina and Patsy when Absolutely Fabulous returns later this year. Bad news! She can't tell us anything about it, as she told Metro: "I can't tell you anything about it because it's all a bit vague at this stage. I want to be involved because it's all the old gang."
• If you read Star magazine's recent report that Emma Watson is displaying classic signs that she's in the middle of some kind of breakdown, by going out to parties all the time, in order to ease the pain of the final Harry Potter film being out and her future being less than certain, do not panic. She's having none of it. Her spokesperson told Gossip Cop: "This is a ridiculous story and in no way true."
• Now that he's no longer attending Hogwarts, Rupert Grint is ready to go to the extreme… extreme sports, that is.
• Ever the shrewd operator, Daniel Craig has claimed he'd be interested in doing a Bollywood movie, should the right script come his way. He's been talking about the 23rd James Bond movie, some of which is set in India, and was asked about Indian cinema in general. He replied: "I think it's a huge market. My last two Bond movies did good business in India." (via Digital Spy)
• They may have just welcomed little Harper Seven into the world a few weeks ago, but David and Victoria Beckham might not be done having babies. The L.A. Galaxy footballer recently stated: "We've always said we'd love a big family and five was the number. If we're lucky enough, then we hope to have one more." (via The Daily Mail)
• Rob Kazinsky, who left the cast of The Hobbit in April, will play opposite Luther's Idris Elba, Willem Dafoe and Charlie Day in Guillermo Del Toro's 2013 monster flick, Pacific Rim.
Read More
Filed Under: