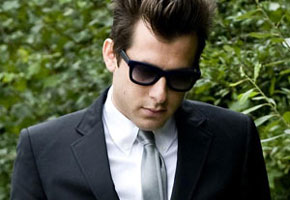 The private funeral for Amy Winehouse was held today (July 26) at the Edgwarebury Cemetery in North London, BBC News reports. Producer Mark Ronson, friend Kelly Osbourne, and boyfriend Reg Traviss were the most famous guests among the estimated 300 to 400 attendees. Osbourne and others wore their hair in Amy's iconic beehive style in honor of the late singer, who died Saturday (July 23) at the age of 27.
Amy's father, Mitch, read a eulogy that ended with, "Goodnight, my angel, sleep tight. Mummy and Daddy love you ever so much." Prayers were recited in both English and Hebrew, a nod to Amy's Jewish heritage, and the service concluded with a version of Carole King's "So Far Away."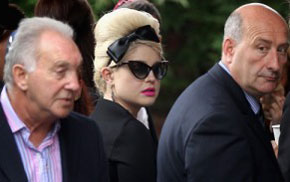 Amy's ex-husband, Blake Fielder-Civil, was not allowed out of prison to attend the funeral. (NME)
MTV is set to re-air a 2007 Amy Winehouse concert as a tribute on Wednesday, according to The Hollywood Reporter.
• Carey Mulligan and Mumford & Sons frontman Marcus Mumford got engaged this past weekend? That's what The Sun is reporting.
• Torchwood star John Barrowman — who was lookin' pretty tasty at Comic-Con last weekend — will NOT be showing off his vocal prowess on Glee. He must stay loyal to Captain Jack. Damn!
• Dame Judi Dench isn't a fan of watching herself on screen. Kate Winslet knows how she feels.
• The long-running BBC sitcom, Two Pints of Lager and a Packet of Crisps, has been cancelled.
• Liam Gallagher needs parenting tips? Apparently so, as Supernanny's Jo Frost says she's provided some pointers to the Beady Eye frontman and his wife, Nicole Appleton, on how they can keep their three boys in line.
• Speaking of parenting, Spice Girl mommies Emma Bunton and Victoria Beckham, who gave birth weeks apart from one another, are trading tips, via email, on how to manage life with their new little ones.
• Elle magazine reports that English model/TV personality Alexa Chung has a new fashion show called 24-Hour Catwalk. It's slated to air in the U.S. on Lifetime.
• Former Gavin & Stacey star James Corden will soon grab his sweat band and some trainers to run 280 miles from London to Paris, all in support of the Sport Relief charity.
• Karen Gillan isn't the only British superstar heading to the West End this fall. Thandie Newton has reportedly signed on for the revival of Ariel Dorfman's 1990 play, Death and the Maiden.
Read More
Filed Under: