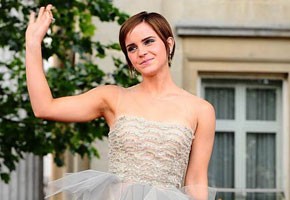 • Emma Watson is looking forward to NOT being part of an astonishingly successful film franchise for a little while, if only because living under a microscope isn't all that much fun when you're that young: "It has been quite hard and pressured making the Harry Potter films," she says. "I'm so happy to be out having fun with my friends. It will be nice to take a break and step back a bit."
• Speaking of Harry Potter, it seems that Daniel Radcliffe may be mulling over a career in archaeology now that he's no longer attending Hogwarts. His buddy, Tom Felton, well he'd like to drop the rhyme as a rapper. Heh.
• The entirety of Twitter is making the same joke over and over again at the moment, at the expense of Victoria and David Beckham "Harper Seven? Half-past seven?" It'll probably calm down by the time she's old enough to look at the Internet.
• Oh, speaking of which, Muse singer Matt Bellamy and his movie star fiancée, Kate Hudson, have also welcomed a new arrival, in the form of a baby boy. The name has not been announced as yet, but don't put money against it being called something space-related and colossal. Dwarfstar Bellamy, perhaps?
• There's a full trailer for The Adventures of Tintin: The Secret of the Unicorn, the Steven Spielberg-directed animated adaptation of the comic book series. Jamie Bell voices Tintin, heading a Brit-filled cast that includes Daniel Craig, Andy Serkis, Simon Pegg, Nick Frost, Cary Elwes, and Mackenzie Crook. Doctor Who's Steven Moffat, Edgar Wright, and Joe Cornish co-wrote the screenplay.
• Best get your wellies while you can, it's possible that Glastonbury festival might only have three years left, according to the one man who would know better than anyone — Michael Eavis.
• Dizzee Rascal faces a lifetime ban from British Airways after shouting at a stewardess. He says he was frustrated at the late running of the service, which prevented him from getting to a gig in Portugal on time.
• Jarvis Cocker took some time out from Pulp's triumphant set at the T in the Park festival over the weekend, to wipe his bum on the News of the World. Not a fan of the notoriously muck-raking tabloid, which closed yesterday after a scandal surrounding illegally hacked phones (including those of 9/11 victims), he told the crowd: "That's the only thing that piece of s*** has been good for in 168 years."
• Ewan McGregor has been giving Danny Boyle the silent treatment for well over a decade, as he's still hella miffed at the Oscar-winning director for casting Leonardo DiCaprio instead of him in the 2000 adventure drama, The Beach. C'mon Ewan, it's time to kiss and make up.
• Naomie Harris (28 Days Later, Pirates of the Caribbean) is slated to bring Miss Moneypenny, a.k.a. M's secretary Jane Moneypenny, to next year's Bond 23.
• Dame Judi Dench was recently bestowed a Praemium Imperiale Laureate award by the Japan Art Association in London.
• Liam Gallagher has called out his brother Noel for being a big fat "liar" in regards to Oasis's tumultuous 2009 split. The Beady Eye frontman said: "In my opinion – he's a control freak. He's making up lies to get brownie points."
• On the set of his new film, 2012's The Dictator, Sacha Baron Cohen takes to the streets of New York City and finds himself in the middle of a protest. Sounds about right.
Read More
Filed Under: