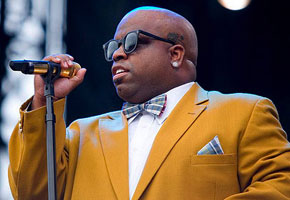 • Pippa Middleton has a new admirer, in the shape of Cee Lo Green. Although she should probably be aware that he's a little too busy enjoying his own reflection to bother with the finer details, like remembering her name. He told Shortlist magazine (via Musicrooms): "I can't be screwing around with just anyone now. I've got to go for a duchess or something. I've got to aim for… what's her name? Pippa? Piper? Yeah! I've got to go for Pippa, man. She's gorgeous. I like her."
And they say romance is dead.
• Are you ready for X Factor, America? In a newly released teaser for the Fox reality talent competition, which premieres September 21, Simon Cowell looks to be rearing to go. The pastel pink sweater is a nice touch, Si.
http://www.youtube.com/watch?v=RlY15RjXRMY&feature=player_embedded
• Deadline reports that Ruth Wilson, the bone-chilling femme fatale Alice on BBC America's Luther, is in talks to play the female lead in Disney's adaptation of The Lone Ranger, opposite Armie Hammer.
• In other casting news, former Gavin & Stacey star Joanna Page has signed on to portray a mother in a new Sky1 sitcom called The Gates. (The Daily Independent).
• Hobbit fans, check out the latest cast shots which have been released. They're mainly of dwarves, but they do at least show that the film is going to be every bit as lovingly-detailed as its predecessor.
• Here's Emma Watson being mercilessly teased by David Letterman, particularly on the subject of Daniel Radcliffe's recent admission that he'd become dependent on alcohol in order to go to parties. In hindsight, she probably wishes she had just fibbed and said "no."
http://www.youtube.com/watch?v=KeYiLufc1yw
• Oh and speaking of Harry Potter stars becoming tired and emotional, Rupert Grint says he had to walk out of the UK screening of the new film because he was crying.
He told MTV News: "There's a scene where all three of us are on the bridge after the battle, the castle is on fire… there's a weird parallel between that and our lives. That always gets me."
• The Sun has a brand new photo featuring Colin Firth as art swindler Harry Deane in Gambit. Lookin' pretty good there, Colin. We think Sir Michael Caine would be pleased.
• They may not have relit your fire in the U.S., but the UK nearly lost one of our finest man-bands when a lightning bolt hit the light aircraft in which Take That were flying to Milan. Thankfully, a quick-thinking pilot saved the day, and no one was hurt. (The Daily Mirror)
• Daily Telegraph music critic Neil McCormick says that next summer's Olympic opening ceremony in London must be one to remember. The best way to do that is to collect a rich group of performers that are true examples of "British pop culture," but also ones who match a modern England. Making his wish list are Adele, Coldplay, Jessie J, and a reunited Liam and Noel Gallagher, plus many more.
• This November, Arthur Christmas will surely have many of us laughing off the usual stress that comes along with the holiday season. But let's get a head start, as a new trailer has been released. (Den of Geek)
http://www.youtube.com/watch?v=DLfbPrYO9Rg&feature=player_embedded
Read More
Filed Under: