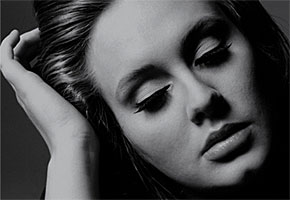 • Poor Adele is convinced that the strain of her current astonishing success will see her off to an early grave, if she's not careful. She told OK magazine: "Oh my God, I'm crippled by fear. I have awful stage fright. I don't know what possesses me to do it. I think I'm going to die young from having so much stress all the time." (via Glamour UK)
• Joss Stone's reaction to her recent kidnap threat — two men were arrested with a car full of kidnap plans and a map of her house — has been, shall we say, fully in character? Her exact quote on the matter, as given to Access Hollywood, is as follows:
"People are crazy and maybe they need a hug? Or a spliff? I don't know… they need something. It's very rude and uncouth… Like, 'Come on, can't you do something better with your Tuesday?' It's very, very weird."
It is indeed, very, very weird.
• Hugh Grant, the people's hack-gate hero (as the News of the World would have put it, had they not been the target of his wrath), has won an injunction in the High Court to see evidence of the extent to which his phone had been hacked by the News of the World — evidence which had previously been withheld by the police. (via The Daily Telegraph)
• The Love We Make, Sir Paul McCartney's documentary showcasing how his "Concert for New York City" came together in the aftermath of September 11, 2001, will premiere on Showtime on the eve of the 10th anniversary. Artists such as David Bowie, Mick Jagger, Sir Elton John, among many others, also have cameos.
• Speaking of Macca, he and fiancée Nancy Shevell — who got engaged in May — will tie the knot in London surrounded by McCartney's loved ones. Once married, they'll head back to the Big Apple for a party with her family and friends.
• Mumford & Sons' Marcus Mumford loves hitting the links from time to time. He's especially fond of the Malden Golf Club in Surrey, as he stated on the band's blog: "If you like golf, and you're in SW London, try to play here. Such lovely people without any of the exclusive, elitist bulls*** that comes with playing golf. Robert, in the pro shop, is a particularly lovely fella."
• Take That have broken the record previously held by Bruce Springsteen for the highest-grossing stadium residency of all time. His record was $37.9 million (£23.4 million) for a 10-night stint at the Giants Stadium in 2003. The That have bested that comfortably after taking $61.3 million (£37.9 million) (via Live 4 Ever)
• Torchwood star Eve Myles found herself in a bit of an awkward situation when meeting Uma Thurman at one of Hollywood's star-studded parties. She told The Press Association: "I bumped into Dustin Hoffman, and there was Uma Thurman. I had a couple of glasses of wine by then and kept on calling her 'Urman Thurman', which went down like a lead balloon, and my fiancé will not let me live that one down."
• Planning a UK holiday? Perhaps you'd like to stay in a British caravan site, in order to get the most out of the countryside. But surely, you'll probably be saying right now, there's a way to supercharge this experience? Surely we can come up with something better than a boring old caravan? Well would a helicopter suit? A refurbished old Royal Navy search and rescue helicopter, which has been refitted with beds and a stove? Thought so. (via Metro)
• Kate Bush just gave us Director's Cut in May, but could a fresh batch of material arrive before the year's end? EMI Australia's company chair Mark Poston thinks so. YES!
• Iron Maiden singer Bruce Dickinson has become a doctor. Sadly, not a proper rock doctor, like a Doktor of Magick or something, he's been awarded an honorary doctorate by his old college, Queen Mary, in London. (via Planet Rock)
• Irish actor Liam Cunningham (Outcasts, Camelot, Clash of the Titans) has signed on for HBO's Game of Thrones. Entertainment Weekly says he'll portray "a family man and former smuggler" named Davos Seaworth.
• While we've seen Sir Michael Caine rock it behind the wheel on film, he opens to The Daily Record about how he obtained his driver's license. He actually thought he'd master the road in his prized Rolls-Royce, but his insurance company put the kibosh on that right away.
Read More
Filed Under: