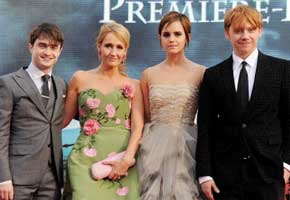 We're pretty sure countless Harry Potter fans will weep just a bit (ok, tons) when part two of Harry Potter and the Deathly Hallows hits theaters nationwide in just over a week, ultimately bringing the massively successful film franchise to a close. But during today's (July 7) red carpet world premiere in London's Trafalgar Square, several members of the much-loved cast did shed a few tears.
Emma Watson, who looked lovely in Oscar de la Renta, was all waterworks when thanking her Harry Potter colleagues and the reportedly 8,000 die-hards who'd camped out days in advance. "I'll just miss being Hermione and getting to live her life and in that world and getting to bring to life a set of books that I myself loved so much," she told Reuters.
And Harry himself, Daniel Radcliffe was just as touched by the day's events.
"I don't think the end of the story happens tonight because each and every person who will see this film will carry this story with them through the rest of their lives," Radcliffe said. "A huge thank-you to all of you, first of all for giving me a job, and Jo [JK Rowling] for letting him [producer David Heyman] give me a job. Every opportunity I get from now on all goes down to the fact I got very, very lucky when I was eleven."
Rupert Grint was equally in awe and explained to the BBC that he couldn't believe that it was all over. "It hasn't really sunk in," he said. "It's unreal. It's so overwhelming. It's really strange."
He continued: "These last few months I've been in a bit of denial, I think, accepting the fact that it really is over. When I saw the posters in capital letters, 'It all ends,' it really does imprint that on the mind. I will miss this. It's been amazing."
Here's a look back at today's festivities:
Read More
Filed Under: