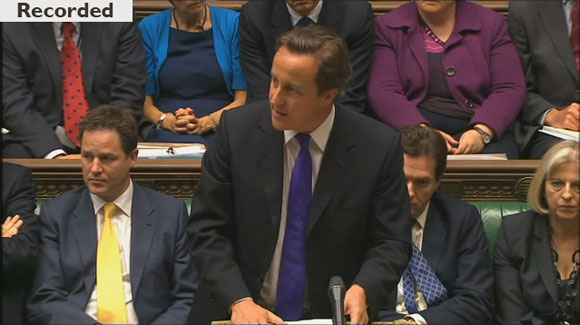 Yesterday, Rupert and James Murdoch and Rebekah Brooks faced both tough questions and shaving cream-wielding assailants.
No foam pies have been thrown today, but the drama has continued as British Prime Minister David Cameron has made a statement before Commons about the News of the World phone-hacking scandal that has dogged him in recent days. Cameron said that he "regrets" hiring embattled former NOTW editor Andy Coulson as his media spokesman. "You don't make decisions in hindsight," Cameron said. "You make them in the present. You live and you learn, and believe you me, I have learned." But he maintained that Coulson was innocent until proven guilty of the serious allegations facing him.
After the Q&A session with the Prime Minister, a general debate over the matter is ongoing now on the Commons floor. You can watch live coverage of the debate, plus replays of highlights from Cameron's statement, over at BBC.com.
Read More
Filed Under: