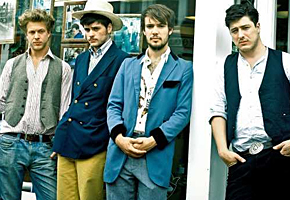 Mumford and Sons have not been taking their astonishing success in the States for granted, if their current work-load is anything to go by. Having started to pepper their sets with new songs while playing in the Scottish Highlands, ready for album #2, they have also begun to let some slip out in radio sessions.
Here's "Home", a new, slow-burning fire of a song, which was recorded for Colorado station KBCO.
Mumford & Sons – "Home/Untitled" (Live on KBCO) by TwentyFourBit.com
Do we like? Tell us here.
Read More
Filed Under: