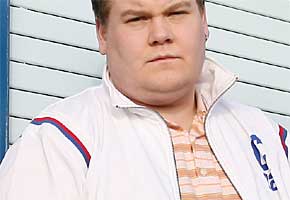 The English Language is blessed with a rich lexicon of similes for things that are overwhelmingly fiddly because they are prone to sudden change. "Like herding cats" is one, "like trying to plait sawdust" is another. And I'd like to suggest a late addition, based on recent events at the National Theatre: "like directing James Corden."
It seems the Doctor Who/Gavin and Stacey star's current run in the play One Man, Two Guvnors has been a hugely enjoyable experience for everyone involved, perhaps slightly too enjoyable. It's an update of the 1743 Venetian farce The Servant of Two Masters, by Carlo Goldoni, and features a lot of meticulously rehearsed acts of physical comedy interspersed with audience participation and off-the-cuff humour.
This is, of course, every comedic actor's dream, and James is no exception, so the ad-libs have been flying like ducks in winter. Everyone's having a wonderful time. Everyone, that is, apart from the show's director, Nicholas Hynter.
Having seen the cast indulge themselves in talking to the audience for longer than he deems strictly necessary, Nicholas has asked them to try and remember what it is they're supposed to be doing, and get back to the somersaults and prat-falls.
A cast member told the Observer: "Nicholas Hynter came to see us to tighten things up and he issued a rather stern note last week. I think he felt we had got a bit carried away and we were having a bit too much fun. We sort of got into a bit of trouble, so we've had to rein it in a bit."
And it's not the first time Nicholas has had to rein in his gigglesome cast. During the show's rehearsals he found that in order to get them to improve their performances he had to ban them from laughing at each other.
He said: "Actors were sweetly and supportively laughing indiscriminately at each other, to help each other through the fallow patch. It wasn't helping. It's no use being made to think you're funny if you're not, so I decided there would be only one arbiter of funny in the room: me."
Let's hope he doesn't extend this rule to the audience too.
Read More
Filed Under: