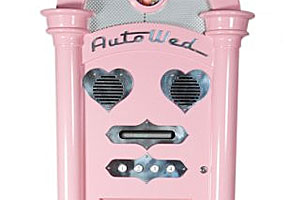 While Vegas weddings have always been seen as an unserious alternative to the full solemnity of the marriage service, they do go on a bit, don't they? I mean you have to wait for the guy to do his Elvis schtick, and then both of you have to say all the vows out loud. It's not very efficient, is it?
Surely someone could come along and invent something that would speed the whole process up? It's the 21st Century, after all.
Well, they have, in the slightly unlikely location of Falmouth, Cornwall.
Concept Shed, a Cornish design company, came up with the idea of a marriage vending machine a year ago, and built one to look like, in their words "a parking meter mixed up with a Cadillac."
Couples are asked to select what kind of wedding they want, including gay and lesbian (and even best friends forever), they pay $1, and at the end they receive a plastic ring each, and a 10% discount on a divorce.
Here's the, ah, ceremony in full:
http://www.youtube.com/watch?v=hs4BRzVV5iM
As you can see, it's an exact and perfect match for the true marriage ceremony, and should in no way be considered a cheapening or sillification of what is a very solemn vow.
And before you laugh too hard at the Brits and their eccentric ways, know this: it was built to order, for Marvin's Marvellous Mechanical Museum in Detroit.
Want to have a go? Tell us here.
Read More