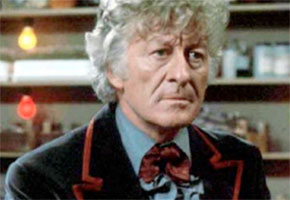 Now we're cooking on gas! Having established a few of the basic bits and bobs you'll need if you wish to indulge in what I now realize is called cosplay around the First Doctor and the Second Doctor, it's time to start some of the heavy lifting, and address the matter of Jon Pertwee, the dandy Third Doctor.
So, whether you're heading for Comic-Con, or you've drawn 'Pertwee' out of a hat for a 'Dress Up As A Doctor' party, here's how you get his look.
1: Hair – get a light curly headed wig and either spray it white, or coat it with talcum powder for that mad professor look. If you're clever, you can get the one wig and just change the colour if your next event requires you to pretend to be Tom Baker's Doctor.
2: Shirt – frilly. With frilly cuffs and a nice big collar, well pressed. Not too dark, but it can be colored. One of the things the Third Doctor had was a fairly extensive wardrobe of broadly similar clothes.
3: Tie – optional, maybe use the ribbon from your First Doctor costume, but the Third Doctor also thought bow ties were cool. They should be in a complimentary shade to the jacket, and not too stiff and prominent. (see top pic)
4: Jacket – to paraphrase Henry Ford, you can have any color you like, so long as its rich, and velvet. Bottle green, wine red, royal blue, that whole spectrum of colors would work, so long as the jacket is in good order (he's a dandy, remember) and made of velvet. Embroidered buttons and piping around the lapels are a definite plus too.
5: Waistcoat – optional, but if you do want one, get a velvet one that could've been cut from the same cloth as one of his jackets.
6: Pants – black or dark brown, possibly charcoal grey. Pressed and neat.
7: Shoes – smart and polished please.
Of course, a true dandy never forgets his cloak, and the Third Doctor appears to have had a TARDIS-ful of them. Again, velvet appears to have been a popular choice, but also plaid, and tweed, with the same embroidery as the jackets. What you may wish to consider is buying a pair of thick curtains and lining them with something flash and silky. You'll also need a pair of leather gloves for outdoor use, maybe a gold pinkie ring, and a sonic screwdriver that looks as if it is made out of a candy cane.
See also: How to dress like the Fourth Doctor.
Did we miss anything? Tell us here.
Read More
Filed Under: