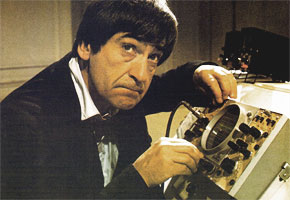 Yesterday we discussed how best to dress up as the William Hartnell-era Doctor in Doctor Who, in case the high neck fell off your Sontaran costume, or your dalek sink plunger got used to clear a blocked drain, and you were stuck for ideas before the start of Comic-Con.
Now we turn our sartorial attention to his successor, the clownish, complicated Patrick Troughton. Here's how you can steal his look:
1: Hair – This is easy. A Beatle-wig will do the job just fine. Try and kick it around the room a few times before you put it on though. It should be a little scruffy.
2: Shirt – blue, slightly too big, huge collars if possible. Make sure you bend them out of shape before you put it on. You want to look like a 13-year-old who resents having to wear school uniform.
3: Tie – the Second Doctor occasionally thinks bow-ties are cool. Failing that, something dark blue tucked into your shirt.
4:  Jacket – if you were looking for a dress jacket in a thrift store, in order to dress like the First Doctor, but could only find a battered old thing which is too big for you, get that. At times, the Second Doctor looks like he's wearing the First Doctor's hand-me-downs.
5: Waistcoat – Not necessary, although a cummerbund might work, if it's narrow enough.
6: Pants – Big, baggy plaid pants. Again, they need to be too big, as though the Second Doctor has big shoes to fill, and isn't quite old enough. You'll need suspenders too.
7: Boots – ankle boots, but not polished and smart like the First Doctor. These would be the kind of boots Charlie Chaplin ate in The Gold Rush. Possibly with actual toothmarks in.
Then all you need to do is accessorize with a pocket handkerchief, a stripy recorder, a 500-year diary and a lot of face-pulling, and you're away.
Here's the man himself, to show you how it's done:
See also: How to dress like the Third Doctor.
Read More
Filed Under: