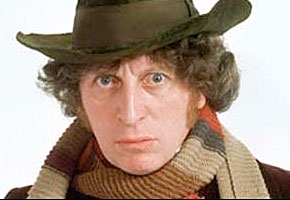 There's a brilliant bit at the beginning of Tom Baker's very first episode as the Doctor, in part one of Robot, where he is attempting to decide what kind of clothes he wants to wear. He goes into the TARDIS and comes out dressed as an ancient viking warrior, much to the Brigadier's consternation, then he goes back in and comes out dressed as the king on a playing card, then a pierrot. The gag is that by the time he comes out in the clothes with which we all now associate him, the Brigadier is so glad to see him in something approaching nowadays garb that he acquiesces to the Doctor's whim.
In actual fact, Tom Baker's Doctor costume has aged rather better than that of his immediate predecessor, Jon Pertwee. The hat, the scarf and the frock coats – in a range of autumnal colors – all cover what is essentially the clothes of an Edwardian/Victorian gentleman. Possibly even an apothecary or a doctor. It's the smart outfit of a well-to-do man, who has chosen to plop a scruffy hat and a silly scarf over the top because he doesn't care. He's well-to-do, why should he?
Right, let's do this:
1: Hair – take your Third Doctor curly wig and dye it brown. Or, y'know, buy a brown curly wig. Then tease it out so it frames your head like a halo. Then you'll need some ginger face fuzz. If you can't grow your own, sticky-backed fur will work. The Fourth Doctor has proper sidies, and you'll need these.
2: Shirt – nothing too modern, but you can get away with a plain white shirt, given the amount of stuff which is going to be hiding it. A billowing Mr Darcy one would be good too. If you're feeling cocky, put question marks on the collars.
3: Tie – not so much. A burgundy cravat, perhaps, or some kind of neckerchief, but the Fourth Doctor is not much of a formal tie-wearer. And he doesn't seem to think that bow ties are cool.
4: Waistcoat – oh yes please. Again, what we're after here are autumnal colors. Tweeds or plaid are fine, anything that suggests it was handed down from a great uncle and it has plenty of wear left in it. No need for a pocket watch though. The Fourth Doctor keeps his things in his coat pocket.
5: Jacket – there's a fair amount of choice, as these pictures illustrate. The classic Fourth Doctor jacket is a medium-length deep red velvet jacket with tan leather elbow patches. But he's also been seen in a calf length coat of similar hue, or the brown frock coat as seen here. You can't really go too far wrong if you get something smart that hugs the torso and flares out a bit around the waist.
6: Pants – full-length tweed or plaid pants are fine, but there have been times when the Fourth Doctor has worn knee-length leather riding boots (deep tan colored) and baggy three-quarter-length pants that tucked into his boot tops.
7: Boots – (see above), or these nicely polished dress shoes. Something leathery and smart. No trainers.
As you'll know, the Fourth Doctor is all about the accessories. You'll need a stripy scarf. Well, possibly two or three scarves sewn together to make one long scarf. And a big felt hat, in deep red or bottle green, or brown. That's most of the work done, right there.
Then all you'll need is a sonic screwdriver that looks like a bit like an otoscope (device for looking into the ear) without the funnel bit, a bag of jelly babies and a great big toothy grin.
Here's that moment with the Brigadier:
http://www.youtube.com/watch?v=pnG9wow03Vs
See also: How to dress like the Fifth Doctor.
Read More
Filed Under: