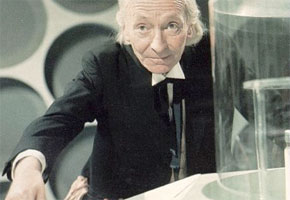 If you're going to Comic-Con, chances are you'll be planning to dress up as someone from the science-fiction-slash-superhero firmament. Maybe you've been busy gluing bits of tin foil together, over an old set of headphones, in order to rock a convincing cyberman. Or perhaps you're planning to walk around with a shaved head and a tin of spaghetti hanging out of your mouth, like the ood.
But if you're short of ideas, here, in true fashion-magazine style, is part one of a series in which we show you how to 'get the look' of your favorite Doctors (and possibly some assistants). And of course the best place to start is at the beginning, with Doctor No.1, as played by William Hartnell.
1: Hair – if you've got the hair for it, try gelling it back off your face and spraying it white. If not, get a wig, gell it back off your face and spray it white. Easy.
2: Shirt – white, dress shirt, the kind you'd wear with a bow tie.
Warning: The First Doctor does not think bow ties are cool.
3:  Tie – get a black ribbon and tie it in that weird bow that looks a little like a wide moustache.
4: Waistcoat – something silvery or tweedy, preferably. Nothing too flash, we're not Colin Baker yet.
5: Jacket – a nice long dress coat, accessorised with a pocket-watch on a fob chain.
6: Pants – something informal and tweedy, and a little bit baggy, will do nicely. You want to aim somewhere between Bertie Wooster playing golf, and Charlie Chaplin.
7: Boots  – you don't often see the Doctor's feet, but in his regeneration scene (see below) he's wearing shiny elasticated boots. But really any shiny pair of shoes will do.
And if you're feeling swish, you could always accessorise this with a white scarf, and a black hat that looks a little like a tea cosy. Then all you need to do is get the posture right. You need to strut like a slightly doddery, but still fearsome school-teacher. Remember, no matter how absent-minded you may be, you own the room.
See also: How To Dress Like The Second Doctor
Read More
Filed Under: