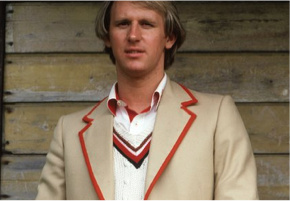 There's something very uncluttered about Peter Davison's outfit as the Fifth Doctor. Where previous Doctors had adopted a kind of mix and match approach, pilfering a smoking jacket from here and a flamboyant kerchief from there, the Fifth Doc's sole concessions to wackiness are the wearing of trainers, the insistance on the question-mark shirt collar again, and yes, that celery lapel.
And also, it's a much brighter ensemble than before. Where the Fourth Doctor loved his deep reds and greens and the Third was a devotee of velvet, the Fifth Doctor's outfit is entirely devoid of dark colours. Even his hat is summery. Which must mean that the TARDIS has astonishing dry-cleaning facilities.
Ready to play? OK!
1: Hair – do they make Richard Carpenter wigs? If not, and you've got the locks for it, a simple side-parting (and maybe a wash-in lightener) will do the trick. If not, there's always the hat option.
2: Shirt – any normal long-sleeved white shirt will do. Don't forget to draw those question marks on the collars, and maybe color the underside red too.
Note: if it were up to me, those question marks would never have been there in the first place. Because they imply the title of the TV show Doctor Who within the action of the TV show Doctor Who, and that kind of knowing wink to camera is just annoying, since you ask.
3: Tie – no tie. The Fifth Doctor does not think bow ties are cool.
4: Waistcoat – Either a nice bright cream waistcoat or a sparkling white v-neck cricket jumper with coloured piping. The Fifth Doctor does not enjoy having a chill on (all four of) his kidneys.
5: Jacket – a lightweight beige calf-length long coat with red piping everywhere. This is not a cold weather coat. There's a suggestion that the Fifth Doctor must be some kind of weakling, because his clothes are all lighter than his predecessor's and he doesn't even have that sonic screwdriver to cart around, or a scarf around his neck. He does, however, occasionally carry a cricket ball. I know, Hulk Hogan he is not.
6: Pants – tan and red striped lightweight pants, held in place with suspenders. They end slightly higher up the leg than, say the Third Doctor's pants. Adds a certain clownish tinge to proceedings (it was the '80s, after all).
7: Shoes – white sneakers, white converse, white trainers. A comfortable shoe, in essence.
Then all you need is a sticky-back celery, a nice summery hat (I'm gonna say panama, but I may be wrong) and some half-moon specs. Why the half-moon specs? Watch this, and all will become clear:
Oh and don't forget to look a bit scared, that seems to be his default position.
See also: How to dress like the Sixth Doctor
What did we miss? Tell us here:
Read More
Filed Under: