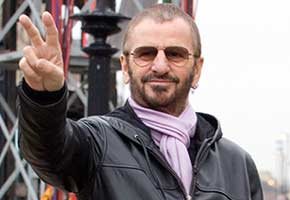 "The Beatles were so high, they let Ringo sing on a couple of tunes" – Bill Hicks
It's sometimes hard to know whether Ringo Starr is due our pity or respect, given that he is regularly cited as proof that the Beatles had a man-sized chink in their armor (even, jokingly, by some of the other Beatles). But at the height of Beatlemania, he was the most popular member of the group, judging on fan mail alone. He was also a crucial part of that four-headed charm offensive the band perfected. Not as sharp as John, perhaps, nor as smooth as Paul, or as spiky as George, Ringo was the trusted sidekick, the down-to-Earth Dr Watson who completed the circle, allowing the group to feel invincible but remain thoroughly human.
And as an unfussy, groove-holding drummer for a song-based beat group, he's actually pretty hard to beat. Drummers know this, as did Sir George Martin, who had already seen one Beatles drummer off, and booked a session replacement for the group's first recording session with Ringo. Had he been the clod-hopping yokel of legend, this simply wouldn't have happened.
So, in tribute to the great man's 71st birthday, which he will be celebrating on tour, here are five songs that prove that he wasn't just along for the ride:
"A Hard Day's Night" – The Beatles
http://www.youtube.com/watch?v=y2s4XJkx3qM
Here's a song that simply would not exist without Ringo, even though he did nothing more than say a funny thing out loud. When the band was shooting their first film, the title was one of the last things to be agreed upon (it was tentatively called Beatlemania at that point). And there was no theme song. Then, after a particularly gruelling job, Ringo piped up, saying what "a hard day's night" they'd had, causing the rest of the band to crack up. John then used it in a short story, and when it came time to think of titles for the film, the line came out again. John then rushed home and wrote the song overnight.
See also: Tomorrow Never Knows, Eight Days A Week
"Act Naturally" – The Beatles
George Harrison may have been the Chet Atkins buff, but Ringo shades it as the real country fan in the group, and this contemporary Buck Owens cover proves it. The funny thing is, Roger McGuinn of the Byrds credits this song as being the inspiration for his band's meander into country and western. He says that the Beatles tackling a country song in 1965 made it somehow OK for other bands to do likewise. So, there is an argument that says had there been no Ringo, there would be no "Sweetheart of the Rodeo", no Gram Parsons, no Eagles…
See also: "Honey Don't", "Don't Pass Me By"
"Yellow Submarine" – The Beatles

http://www.youtube.com/watch?v=Wrs5DjHNUOE
In 1966, Paul McCartney wanted to write a song for children. He wanted that song to be fantastical and colorful, but also simple and singalong. He wanted there to be no doubt that this was not a double-meaning song about drug use or anything sophisticated like that, this was very much a fun song, that would be fun to sing, for everyone, and the band could enjoy recording sound effects for it too. But who should sing such a thing? There really was only one Beatle for the job. That the song then became a brilliant cartoon film, and a gateway drug into the band's music for millions of children over the years was never part of the plan. But it does prove a million hipsters wrong, when they claim it spoils the perfection of "Revolver," the album on which it first appeared.
See also: "Octopus's Garden", "Good Night"
"A Little Help From My Friends" – The Beatles
By the time the band were writing what became "Sergeant Pepper's Lonely Hearts Club Band" it had become well established that Ringo would sing one song on each album. Sometimes the songs would be makeweights, like "I Wanna Be Your Man," and sometimes they'd be something that suited his plain-speaking, from-the-heart charm. This is the best example of the latter, and arrives after a fanfare from the band, announcing the arrival of "Billy Shears." It always struck me as a very British thing to do, to give the song this buildup, this heroic moment, and then have it sung by Ringo, to undercut any air of pomposity. It also features an artistic stretch for the man himself, that final high note at the end, which he was very uncomfortable about singing. Joe Cocker's version may be the more arresting, but Ringo's got charm on his side.
See also: "Boys", "Matchbox"
"I'm The Greatest" –  Ringo Starr
In 1973, Ringo recorded a song written by John Lennon (about John Lennon), on which he played the drums, John played piano, George Harrison played some very "Abbey Road" guitars, and Klaus Voorman played bass, with Billy Preston on keyboards. It was very nearly a full Beatles reunion, of the sort that could only really safely happen on a Ringo song. And again, if the song had been recorded and released by John himself it would have been a very different affair. You need Ringo's mix of bruised confidence and self-depreciation to really sell a lyric as cocky as that.
See also: "Back Off Boogaloo", "Photograph"
Just don't ask for his autograph, OK?
Read More
Filed Under: