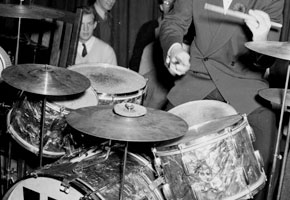 It's almost certainly unfair to trim this list down to just five players. A good band cannot become a great band without a great drummer (just ask the Foo Fighters, they've got two), and so for every great British band there ever was, there's probably a more-than-decent sticksman giving it what-for at the back. And it's a tradition that continues to this day. Matt Helders of Arctic Monkeys? Brilliant drummer. Dom from Muse? Likewise.
Here are just five, to start with, and we'll need loads of examples in the comments list, please:
Keith Moon – The Who
There were show-off drummers before Keith Moon, there were people throwing their sticks into the air and flailing their arms about, but none who were as fully integrated into their respective ensembles. People have said a lot about Keith playing lead drums in the Who, but the reality is he was one of three hugely innovative players in the band, all of whom relied upon the idiosyncratic playing of the others to make the music work. It's a three-way attack on the songs, and while John and Pete make sure the rhythmic core is solid, Keith is to be found filling in all the details, accentuating the vocals, and all the while lobbing drumsticks at Roger Daltrey's head.
Here's an excerpt from the Who documentary Amazing Journey which serves to illustrate why he is held in such awe, particularly the section about leading the double bass drum playing with his left foot. That's wizardry!
John Bonham – Led Zeppelin
It would be a mistake to whack up a video of John Bonham playing his trademark drum solo "Moby Dick" and say "there, that's proof he was good at the drums." And this is because, more than any of the other sticksmen on this list, John Bonham was best as an group player. Where his immediate contemporaries Keith Moon and Ginger Baker traded off the constant display of their hot skills, John's best moments tend to be the bits where he hammers a groove into one of Jimmy Page's twiddliest riffs, and forces the song to take off. That's why his drum breaks – "When The Levee Breaks," "The Crunge" – ended up being sampled by so many hip hop artists, because they're the building blocks of the song, or indeed, another song entirely.
http://www.youtube.com/watch?v=I8Rl5REucCQ
Mitch Mitchell – The Jimi Hendrix Experience
Ginger Baker, who is undoubtedly an astonishing drummer and a rhythmic pioneer, originally took Mitch's place on this list. But somehow Mitch Mitchell overshadows even his nimble sticksmanship, by absorbing soul and funk into his already formidable jazz and rock range. What's great about Mitch is his ability to follow Jimi's wildest flights of fancy with something appropriately astonishing, the two of them trading howls and twiddles for tub-thumps and paradiddles, spiralling around each other like the double-helix in a strand of DNA. His style is looser than Bonham and busier than Moon; pretty damn funky too.
http://www.youtube.com/watch?v=HS01e0ogmEc
Bill Bruford – Yes, King Crimson
For a while there, the hallmark of a great musical drummer (as opposed to a timekeeper) was the ability to take an idea and lay a contrasting beat across it, so's to make things a bit interesting. Maybe try it in a different time signature, or backwards, or while drinking soup? Get a few of those kind of musicians together in a group, all super-talented, all attempting to out-do one another in the unconventional musical ideas front, and you've got King Crimson. Bill Bruford plays jazz now. He's still good.
Topper Headon – The Clash
It's astonishing to think that a band whose essential pulse, in the early days at least, could just as easily have been maintained by a Tommy Ramone or Paul Cook, turned out to be quite such a gluttonous absorber of the various rhythms that constitute rock 'n' roll. And really, you've got to credit Topper Headon with that change. As instantly recognisable a drummer as Joe Strummer was a singer, his arrival gave the band a colossal push from the band, allowing them to raid America's giant candy store of musical delights without having to worry about whether it would all work out in the end. He arrived when they were snarly and snotty, and made them fearless. And he wrote and recorded the music (guitars excepted) to "Rock The Casbah."
Who's your favorite British drummer? Tell us here.
Read More
Filed Under: