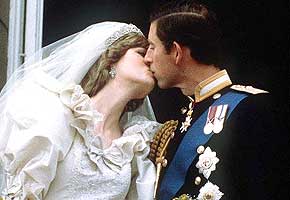 This day (July 29), thirty years ago, was one straight out of a fairy tale. A reported 750 million people around the globe gathered in front of their TV sets to watch the former Lady Diana Spencer and Charles, Prince of Wales exchange vows at St. Paul's Cathedral.
And while we know their union had its share of hardships prior to ending in divorce in 1996, Charles and Diana's royal wedding day is still one to remember. Diana's ivory silk taffeta and antique lace gown, with its 25-foot train, was truly a sight to behold. One cannot forget the couple's kiss on the balcony of Buckingham Palace or how they sparkled when waving to the throngs of royal watchers collected along The Mall.
With Prince William and Catherine's April 29th ceremony still fresh in our minds, we asked our Royal Insider readers to share their fondest memories and thoughts about Charles and Di's big day via Facebook. Here's a look:
Heather Jackson: I was only 4, but I remember watching it. I was acting like a princess because I thought I was… lol. Mom and I watched it. It was kind of like my late birthday present.
Stephanie Matushoneck: I was 14 and my aunt let me sleep on the sofa so I could be ready to go when it started. Both days were magical and beautiful. I try to focus on Diana and what she thought her life would be. While it ended too soon and so tragically, she was blessed with two beautiful sons who loved their mother very much.
Jerry Crow: My family was driving home from a family vacation in Utah and we got up early to beat the sun on the drive through Nevada. We listened to it on the radio on the way back to California.
JoAnn Rice Weatherly: I was on a photography shoot on a natural gas production platform in the Gulf of Mexico, and went into the common room before dawn to see if I could pick up the wedding on TV. To my surprise, two big burly platform workers were already in there watching. The three of us enjoyed it together.
Katherine Anne Neto: I was 22 years old and looked at Diana as someone to mirror after. At that time, I was unaware of the struggles of being a royal. You must remember that social media did not exist and our reports were mostly in print and TV. I loved the flowers and the dress. Everything was big in the '80s… hair, glasses, shoulder pads… haha. I followed her until my own wedding six years later and incorporated some of her ideas into my wedding. Here is a funny note: I wore my mother-in-law's wedding dress. When the Duchess of Cambridge walked into the church, I nearly fell off my chair. My dress is almost an exact duplicate. The dress was made in the late '40s and is still beautiful. As for Diana, her legacy will always be cherished.
Stacey Aberg Durrell: I was 15 and had a slumber party with my best friends. We stayed up all night and watched everything! I was in love with the fairy tale aspect. William and Kate's was wonderful. And the best part: it's obvious they are in love. You can see love on Diana's face, but not on Charles'.
Tracey Schmidt Phillips: I was 3 1/2. My mother was in labor with my brother, but she insisted she watch the wedding as well! So my brother's birthday is the same day!
Patti Ledgerwood McIlroy: I remember it well. We were living in the Highlands of Scotland at Drumossie Hotel, near Inverness, in a little cottage in the grounds. We watched it on the telly while some goats came in to visit! I mean real goats.
Terry Simmons: [I] was on a summer visit at my grandparents' home. My grandmother woke us up at 4 am [and] we watched the wedding all the way through. The thing I remember most was the flowers and the huge crowds in London.
Dorothy Habben: I, too, got up very early to watch and could not wait to see the bridal gown. It was ALL WRONG, overshadowing Diana, much too fussy and heavy, with those voluminous sleeves and ruffles and that huge skirt. Maybe a sign that the marriage itself was to be all wrong? Kate's gown was perfect. She was radiant and William seemed absolutely enchanted by her. I hope it augurs well for the years to come!
Marilyn J Bowen Weitzel: Diana was a beautiful bride/woman. I was sad for her on that day because from the day of the engagement announcement, when Charles said "Whatever love means," I knew she was in trouble. Had she been a little older, I believe she would have dumped him.
Janice Combs: I remember discussing this in my high school history class. It was really a big topic of discussion back then.
Simon Lawrence: Though I was only 5 at the time, I do remember it fondly. It was the first of many royal events I attended. I lived in London and remember waking early so we could be ready in time. I remember the throngs of people that had been waiting for days. There was a sense of pride to be British.
Lynn Infante Ware: I was 14 years old and living in a little town in Texas at the time. Although the town was small, the local newspaper had a society section and it covered their courtship and everything. I woke specially at 5 am so that I could watch the whole wedding on TV. It was magical. I later used my own money to buy an official VHS tape of the wedding. I was sorry that the marriage wasn't as magical. It appears at this point that it will be completely different for the Duke and Duchess [of Cambridge]. I certainly hope so!
Pamma Sheppard: I was 14 years old and got up way early to watch. I loved every minute of it! William and Kate's was just as nice!
Kathleen Cabe: We did get up 4 am for Diana and got up for William and Kate. Both beautiful weddings. Both beautiful brides! This time, I had friends in England, so [I] got to text message with them! It was great to text and talk about what was going on over there.
Connie Richolson Erdman: I remember their wedding as if it was yesterday. I had spent the night at my best friend's house and we got up early in the morning to watch the entire wedding. Back then, we did not have a VCR to record it. With Kate and William's wedding, I recorded it.
Karen Klein: My husband and I watched the wedding of Prince Charles and Princess Diana when we got home from work. We had only been married a year and I thought it was a beautiful wedding. Sad about how it all turned out. Princess Diana looked beautiful. I really miss her. Catherine's bride dress was stunning, breathtakingly beautiful. I loved seeing Prince William and Catherine so happy and in love. I stayed up half the night to watch. It was fun!
Carolyn Hoyt: I believed the fairy tale at the time. [I] took vacation time so I wouldn't miss a minute, and have always been glad for the memory. The wedding of William and Kate was much more sophisticated and very beautiful (except for the amazingly bad taste of the very rich guests). The bride is an adult, not a young girl. That might not be as romantic, but it will probably be a great advantage for her in her new life.
Did you watch Charles and Diana's royal wedding? If so, what are some of your favorite memories? How did it compare to William and Kate's nuptials? Tell us here.
Read More
Filed Under: