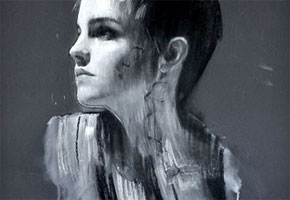 Not that anyone ever would, but should some snarky media pundit ever seek to deflate the bubble of *sigh* which surrounds Emma Watson, by proclaiming that she is no oil painting, we have proof to the contrary.
Emma has been working with the artist Mark Demsteader on a new exhibition called simply Emma, at London's Panter and Hall gallery. Her job was to sit for a bunch of photographs, his job was to render them in oils, in a variety of paintings, all depicting the timeless beauty of her face (which is of course how an art critic would describe it).
She told Vogue UK:  "It was a really simple shoot with just a single light to cast shadows. We took lots of pictures in a variety of poses and Mark went away and selected 30 or so to turn into paintings."
"I am thrilled with how they have come out; they are beautiful. Mark is so talented – I wish I had a fraction of his skill!"
Some of the proceeds from the sale of these paintings will go to CAMFED, a charity devoted to providing education opportunities to young girls in Zimbabwe, Zambia, Malawi, Ghana and Tanzania.
Meanwhile, the very real, flesh and blood Emma has revealed that she's not really cut out for the rigours of Hollywood life.
She told Harper's Bazaar, "L.A. scares the crap out of me. I feel if I have to work out four hours a day, and count the calories of everything I put in my mouth, and have Botox at 22, and obsess about how I look the whole time, I will go mad. I will absolutely lose it."
But surely that's a very healthy lifestyle with no risks to personal sanity whatsoever?
*cough*BritneySpears*cough*
Would you buy an Emma painting? Tell us here.
Read More
Filed Under: