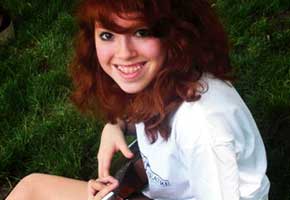 As some of you steadfast Whovians might recall, earlier this summer we featured a charming little song called "Say Hello" in one of our previous Doctor Who's Day Roundups. Well, we were so besotted with the ukulele tune, we decided to reach out to the brains behind the music.
Meet Allegra Rosenberg, a 15-year-old high school sophomore from the suburbs of Chicago. She's a true blue Doctor Who trock rocker who's been penning Who-themed tunes for nearly a year. And what exactly is trock, you might ask? We know some of you might laugh at such a question, of course. But for those who aren't in the know, it's a genre of music otherwise known as Time Lord Rock, which obviously describes specially crafted, heartfelt tunes about all things pertaining to The Doctor and the Whoniverse.
So how did Rosenberg get her start in trock? The ginger-haired teen says she doesn't remember a time where she wasn't jotting down lyrics or song ideas in her notebook, as she grew up surrounded by music. She been playing the guitar since she was 11 and last summer, she was gifted a ukulele by her musician/producer dad. It was then that Rosenberg's trock roots were planted.
"I discovered the whole YouTube culture of songs about Doctor Who," she says. "Then I found [the British band] Chameleon Circuit, which is basically the progenitor of all trock bands. So then I thought I should write some of these songs and I downloaded all the trock I could find, and taught myself how to play it."
Rosenberg's trock premiere came with "The Last Dalek in the Universe," while other jaunty odes to River Song, The Silence, plus one about anxiously awaiting the return of Season 6 soon followed. These and a number of Supernatural-centric songs can all be found via her YouTube channel, which currently has over 1,400 followers.
Another individual who's caught on to Rosenberg's merry melodies is Neil Gaiman. He took to Twitter in June to share his excitement for "Say Hello," Rosenberg's tribute to Gaiman's episode, "The Doctor's Wife." "Took me 3 years of scribbling & rewrites to make 45 minutes of Dr Who, summed up in 2:29 by a smart girl with a ukulele," he tweeted. Rosenberg, who was in the middle of finals week at the time, was completely amazed.
"Neil Gaiman is one of my all time favorite authors," she says. "When I heard he was doing a Doctor Who episode, I freaked. And when it finally aired, it did not let me down. I was crying at the end of it because it was so beautiful, and [I thought it] was just begging for [a song to be written about it]."
Rosenberg says "Say Hello" had 1,000 views prior to Gaiman's tweet. Afterwards, it totaled 21,000 views and brought in 800 more YouTube subscribers. As of today (July 15), it's collected than 36,257 views. So with a growing fanbase, Rosenberg says she'll soon head into her dad's studio to record some of these tracks for a proper EP.
"I'm really excited!" she gushed. "I'm not planning on making them super complex or complicated with backing tracks or harmonies. But who knows?"
Here's one of Rosenberg's brand new cuts, a fantastic homage to the one and only Rory. Enjoy!
Read More
Filed Under: