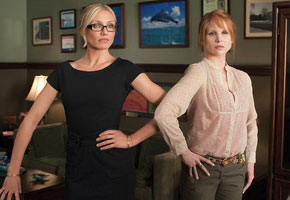 One of the unexpected delights of the summer movie season has been witnessing British actress Lucy Punch excel in the comedy Bad Teacher. In a summer short on standout performances, it's one of the best — far better than the film itself, which has been rated poorly by many critics.
Cameron Diaz and Justin Timberlake are the stars of the movie, but whenever Punch enters the frame, the energy level rises as she displays her real knack for comedy.
The actress plays a high-strung peppy teacher called Amy Squirrel. Her character, a goody two-shoes type, is constantly at odds with the foul-mouthed irresponsible teacher portrayed by Diaz.
Both women are competing for the affections of a nerdy substitute teacher played by Justin Timberlake.
Punch's lucky break came when she replaced Nicole Kidman in the role of an escort in Woody Allen's 2010 film You Will Meet a Tall Dark Stranger. Despite her growing currency in Hollywood she still lives modestly in a one-bedroom apartment in Los Angeles: "I'm keeping it real," she says.
While Bad Teacher is set in the world of an American high school, Punch has her own memories of being a pupil in Britain: "I was very chatty and talkative and always getting sent out of class for talking too much and not paying attention, passing notes."
But after playing a teacher she has nothing but respect for the profession. As she puts it: "I've a huge amount of admiration. When I was 17 I interned at a school. and it was the most exhausting, difficult thing, I've ever done, with all these screaming children. So I have a huge amount of respect."
The prospects for Punch's future in America look bright. She's been cast as the female lead in the TV pilot Powers for FX. Next year, she will appear in the movie Yellow, a drama also starring Sienna Miller.
Read More
Filed Under: