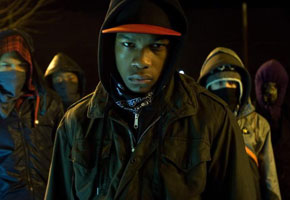 It's been an unexpected hit in the UK, it's won two festival awards in the US, and now the British alien invasion film Attack the Block is heading to a cinema near you.
The movie, a modest endeavor from the producers of Shaun of the Dead and Hot Fuzz, caused ripples of excitement — and received some glowing reviews — when it opened in London in May.
It's very different from the kind of alien invasion extravaganza that Hollywood might make. For one thing it cost a relatively small estimated $15 million. Then there's the concept. It's set on a public housing estate in South London where a gang finds itself fighting off extra-terrestrial invaders.
The picture is the work of British comedian-turned-moviemaker Joe Cornish, who's making his feature film debut with Attack the Block.
Some of the ideas for the film are drawn from U.S. cinema. Cornish maintains he was influenced by films like E.T.: The Extra-Terrestrial and gang movies like The Warriors.
In describing the characters in the film, Cornish says: "You're not sure whether you should be scared of the kids or love them. So we are trying to play with that energy and make you scared at one moment and laugh at another."
Actor Luke Treadaway believes the film has novel elements. He says: "To see young South London kids in an escapist alien film is brand new, and that is so exciting. We take these kids that are victimized every day in the press and make them our heroes."
The film opens in U.S. cinemas on July 29.
Read More
Filed Under: