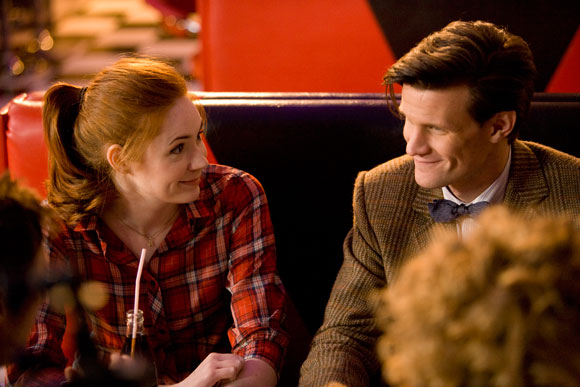 What's an Anglophile (or a Whovian) to do at Comic-Con? Loads, actually. BBC America is bringing a distinctly British twist to this year's proceedings out in San Diego, with Doctor Who stars Matt Smith and Karen Gillan making their first-ever appearance at the popular event. You might want to print this out and keep it handy while you make the rounds of the Convention Center. All times in Pacific.
Here's the schedule of panels and signings.
Thursday, July 21
4:15 – 5:15 pm
Doctor Who's Matt Smith on TV Guide Magazine: Fan Favorites
Smith joins a panel including The Big Bang Theory's Johnny Galecki, Chuck's Zachary Levi, and True Blood's Joe Manganiello.
Ballroom 20
Friday, July 22
5:15 – 6:15 pm
Bedlam Screening and Q&A
The U.S. premiere screening of the first episode will be followed by a Q&A with star Theo James (Underworld 4: New Dawn, Downton Abbey) and creator David Allison.
Room 7AB
Saturday, July 23
11 – 11:30 am
Bedlam Signing
Bedlam star Theo James and creator David Allison will do a signing at the BBC America booth.
BBC America Booth (#3629)
Saturday, July 23
2:30 – 3:30 pm
Bedlam's Theo James on TV Guide Magazine: Super Supernaturals
Theo James on a panel that includes the electric John Barrowman of Torchwood and Doctor Who fame? This is a can't-miss.
Room 5AB
Saturday, July 23
8 pm
BBC America Presents: Nerdist Podcast Live with Chris Hardwick
Doctor Who's Matt Smith and Karen Gillan will be guests on the live taping of the new show hosted by Chris Hardwick.
4th and B
Sunday, July 24
9 am
Draw Tickets for Doctor Who Signing
Doctor Who's Matt Smith and Karen Gillan, plus writer and Being Human creator Toby Whithouse, will take part in a highly-anticipated signing on Sunday at time and location that will be revealed later. First, all would-be participants must draw tickets for the event.
Autograph Area in the Sails Pavilion

Sunday, July 24
12:30 – 1:30 pm
Doctor Who Panel
Doctor Who stars Matt Smith and Karen Gillan will take part in Doctor Who panel alongside show writer (and Being Human creator) Toby Whithouse and executive producers Piers Wenger and Beth Willis.
Hall H
When you get there: Be sure to play "Doctor Who's Clues QR Scavenger Hunt" on the exhibition floor. QR codes look a bit like Rorschach tests (see right), but they are scannable by any smartphone barcode reader. You'll find them at key locations all over the exhibition floor and at the live Nerdist podcast event at 4th and B. By scanning a code, you are entered for a chance to win a jam-packed Doctor Who goodie bag.
Since Comic-Con can be hella crowded, BBCA has offered up a handy map/cheat sheet with all of the locations. And do look at the rules.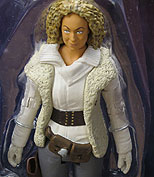 At the booth: The BBC America Shop is offering up some Comic-Con exclusive products, including three new Doctor Who T-shirts, a limited edition Doctor Who Comic book, and a River Song figurine (see right).
If you can't make it to Comic-Con, don't worry: two of the T-shirts — the snazzy "Suit Replica" and the "Taking Off Tardis" tees — will be available at BBCAmericaShop.com.
Click on the photos to enlarge:
The limited edition Doctor Who comic has a unique story: it takes the Doctor, Amy, and Rory and plants them — where else — smack dab in the middle of San Diego Comic-Con. (How meta!) Trouble does tend to follow our TARDIS trio, and soon a group of rogue aliens are roaming the exhibition floor, blending in amongst the costumed patrons. Here's a sneak peek at the cover of the new comic: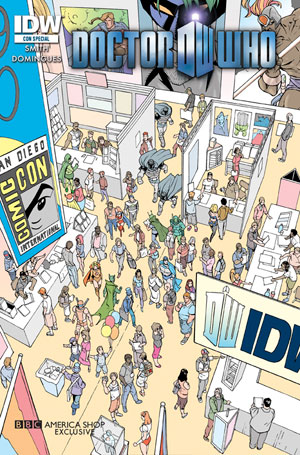 Read More
Filed Under: