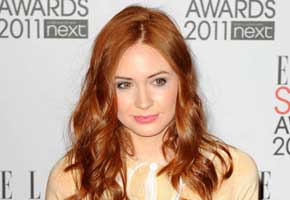 While it's a done deal that Matt Smith will be manning the TARDIS for the foreseeable future, Karen Gillan has confirmed that she will indeed be back for Series 7. Hooray!
The Scottish actress shared the news with Zap2It during last weekend's epic Comic-Con in San Diego.
"I am going to come back, yes," Gillan said. "That's the first time I've said that today!"
• Speaking of the lovely Miss Gillan, the Doctor Who star will make her West End debut in the 1964 John Osbourne play, Inadmissible Evidence, this October. She will play opposite English thespian Douglas Hodge (Robin Hood, Vanity Fair).
• If you missed a moment of Anglophenia's extensive coverage of Doctor Who at Comic-Con, check out our recaps and photo galleries. On Thursday (July 21), Matt Smith brought down the house alongside The Big Bang Theory's Johnny Galecki, Chuck's Zachary Levi, and others at the TV Guide: Fan Favorites panel.
• On Saturday (July 23), Matt and Karen dropped by G4 for a live interview and showed off their TARDIS tattoos at BBC America booth. That night, they yukked it up with host Chris Hardwick and surprise guest Wil Wheaton at the Nerdist live podcast — and handed out TARDIS burritos to the audience!
• On Sunday (July 24), Matt and Karen walked the Comic-Con red carpet with writer Toby Whithouse (and Karen looked particularly stunning.) And finally, Matt, Karen, and Toby were joined by executive producers Piers Wenger and Beth Willis for a full Doctor Who panel that packed the 6,500-seat Hall H. (And middle-school student Nick Pickett wowed the panelists with a six-foot tall movable Dalek that he and his classmates constructed.)
• Also, will Captain Jack make a return appearance to the Doctor Who, possibly for the show's upcoming 50th anniversary? In the panel for Torchwood: Miracle Day, John Barrowman said he'd discussed the idea with Steven Moffat . Stay tuned.
• And of course, Comic-Con ain't Comic-Con without some clever cosplay. Take a look at the adorable Doctor doppelgängers in BBC America's Doctor Who lookalike contest. And you can find an elegant selection of TARDIS gowns and more in our Day 1 and Day 2 photo galleries.
• If you're still coming down from all the Comic-Con madness, feast your eyes once again on the Series 6 Part 2 trailer. Let the countdown to August 27 begin!
• The Eleventh Doctor and Amy Pond chatted with Wired while at Comic-Con. Keeping things "trippy" and "psychedelic" is exactly what the show should be about, says our current Time Lord:
• Steven Moffat is featured at No. 92 in The Guardian's
2011 MediaGuardian 100 list
.
• We simply cannot get enough of Den of Geek's profiles on each Doctor. Their latest on Tom Baker is, of course, spectacular!
• Our latest in the Doctor Who Companion series is the fantastically priggish Peri Brown.
• Loyal Whovian Allegra Rosenberg has gifted us another awesome trock and roll tune. Check that out and find out more about her music here.
• During a recent workshop at the Theatre Royal Haymarket, Ninth Doctor Christopher Eccleston opened up about why he had to leave the Whoniverse in 2005. (via Bad Wilf)
• Matt Smith's lady love, Daisy Lowe, seemingly fits right in with her beau's family. She and his sister, Laura Jayne Smith, were recently spotted bustin' a move at Soho's trendy Windmill club. (via The Daily Mirror)
• And just in case you missed it, Caroline Skinner has been named the new executive producer of Doctor Who.
Read More
Filed Under: