It was an early rise for the Torchwood: Miracle Day panel, which lured the bleary eyed out of their beds to queue up pre-sunrise. A fan tweeted that she'd be waiting in line since 5 am. There were rumors that people had been camping out for 17 hours. But when the randy and irreverent John Barrowman is headlining a panel, you hardly need caffeine, do you?
He was joined by Eve Myles, and his new U.S. co-stars Mekhi Phifer, Alexa Havins, and Bill Pullman, plus Buffy icon and staff writer Jane Espenson. Panel participants don't get much livelier than this lot. I laughed out loud more often than any at any Con panel I've witnessed, mostly due to Barrowman's loose, off-color candor.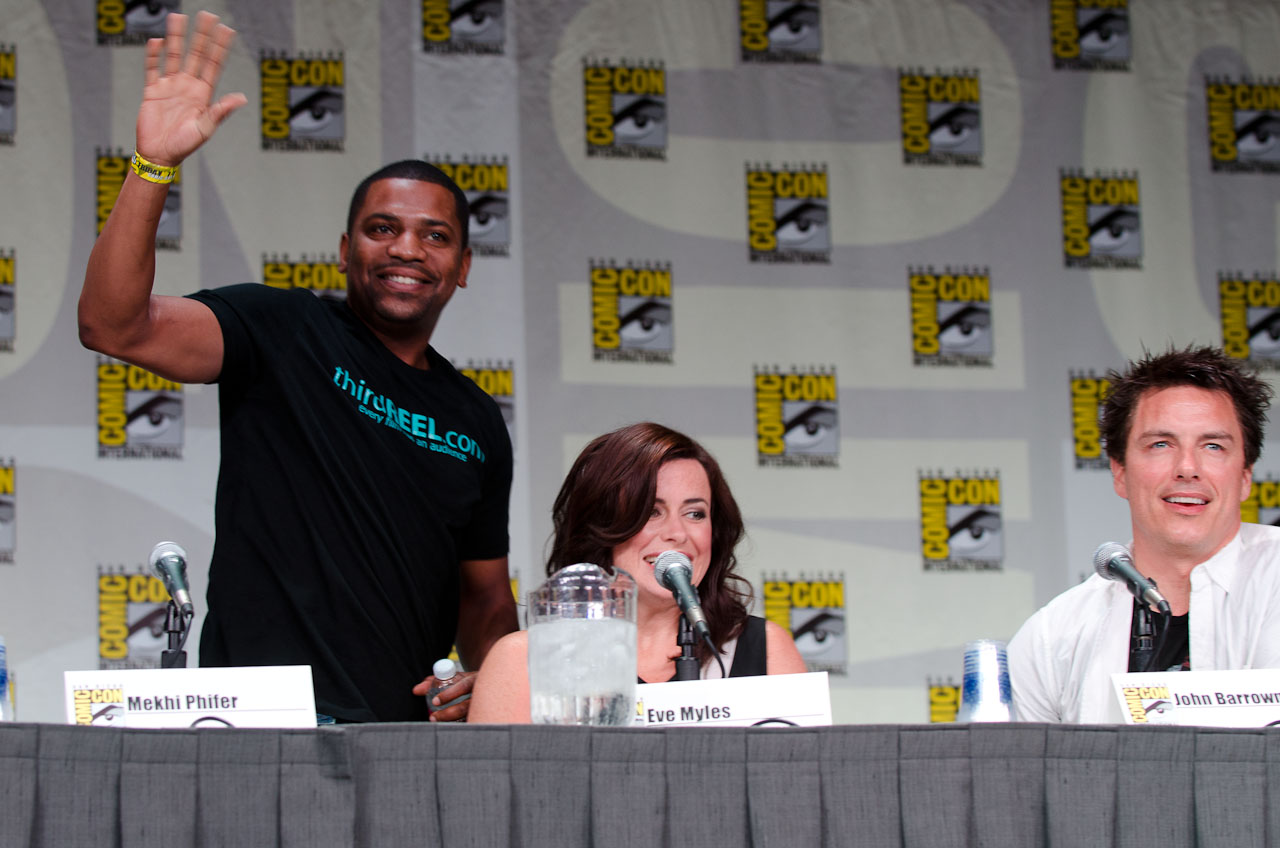 Sample exchange: Havins says she learned about Torchwood from her husband, her former All My Children co-star Justin Bruening, a big sci-fi fan boy who "threatened to divorce her" if she didn't take the part. She says it's been hard to shield her husband from spoilers. "I'll have some residual blood on my hands, and he'll ask, 'Is that Captain Jack's blood. I know he's immortal now.' I'll say, I'll tell you if you do the dishes.'"
To which Barrowman replied, "If getting dishes done is all you get out of it, you need to come and talk to me."
Dirty bird.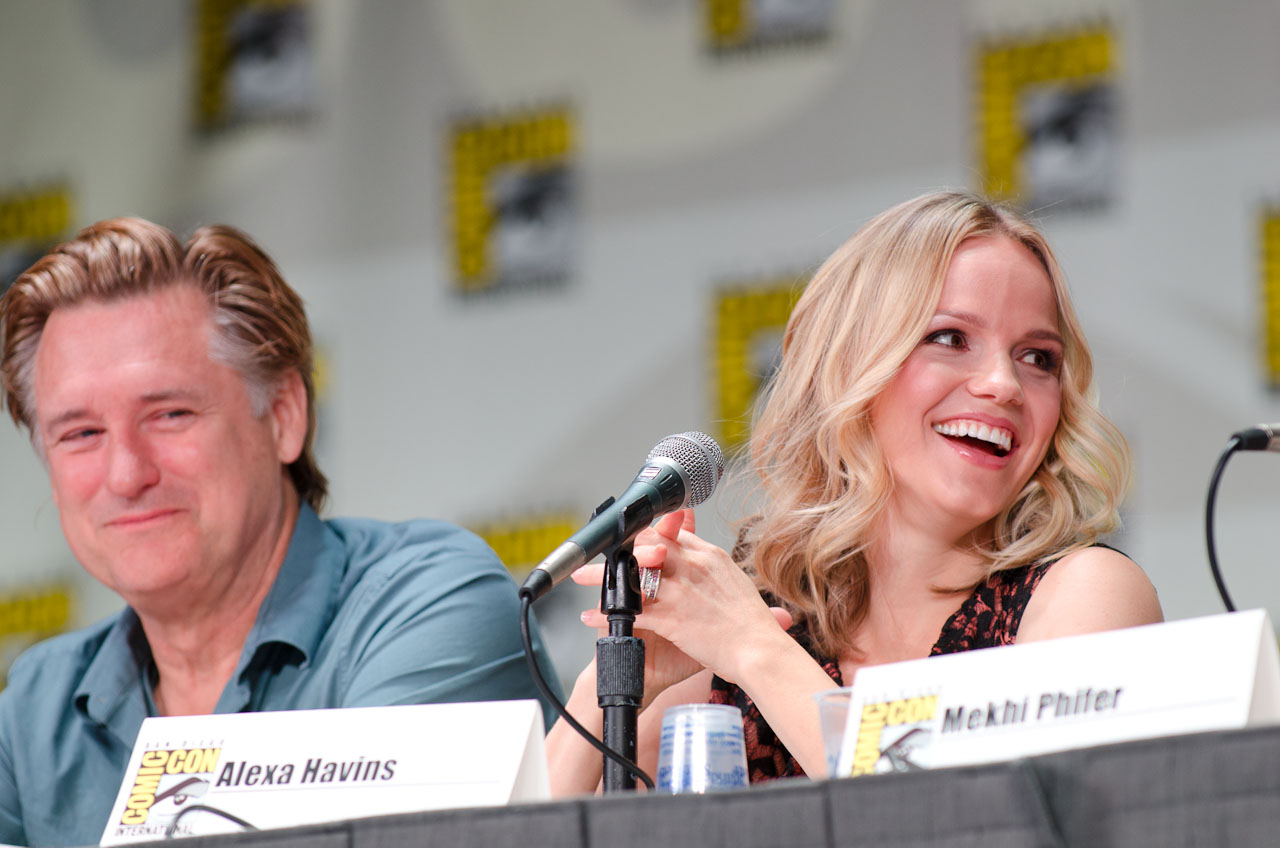 Barrowman knows how to work a Comic-Con crowd, that's for certain. He said that he bought "a load of T-shirts" on the exhibition floor this year. "I always buy my T-shirts at the Con. I love science fiction, I'm a nerd at heart, and I'm proud of it." Near the end of the Q&A, the musical theater veteran even led the audience in a singalong of "Tomorrow" from Annie. (As no one else on the panel can carry a tune, there was no repeat of his brilliant duet with former Torchwood co-star Naoko Mori from Comic-Con 2008.)
Eve Myles says she found it easy to "slip back into Gwen Cooper's leathers" and admits that she digs being in California: "The people are nice, the weather is great, and In-N-Out Burger rocks my world. Those annual fries…what is that?" She also now gives her dog "blueberry facials." Hmmmm…
Apparently, we will hear a snippet of Eve's American accent in next week's episode. Barrowman likens it to Jersey Shore.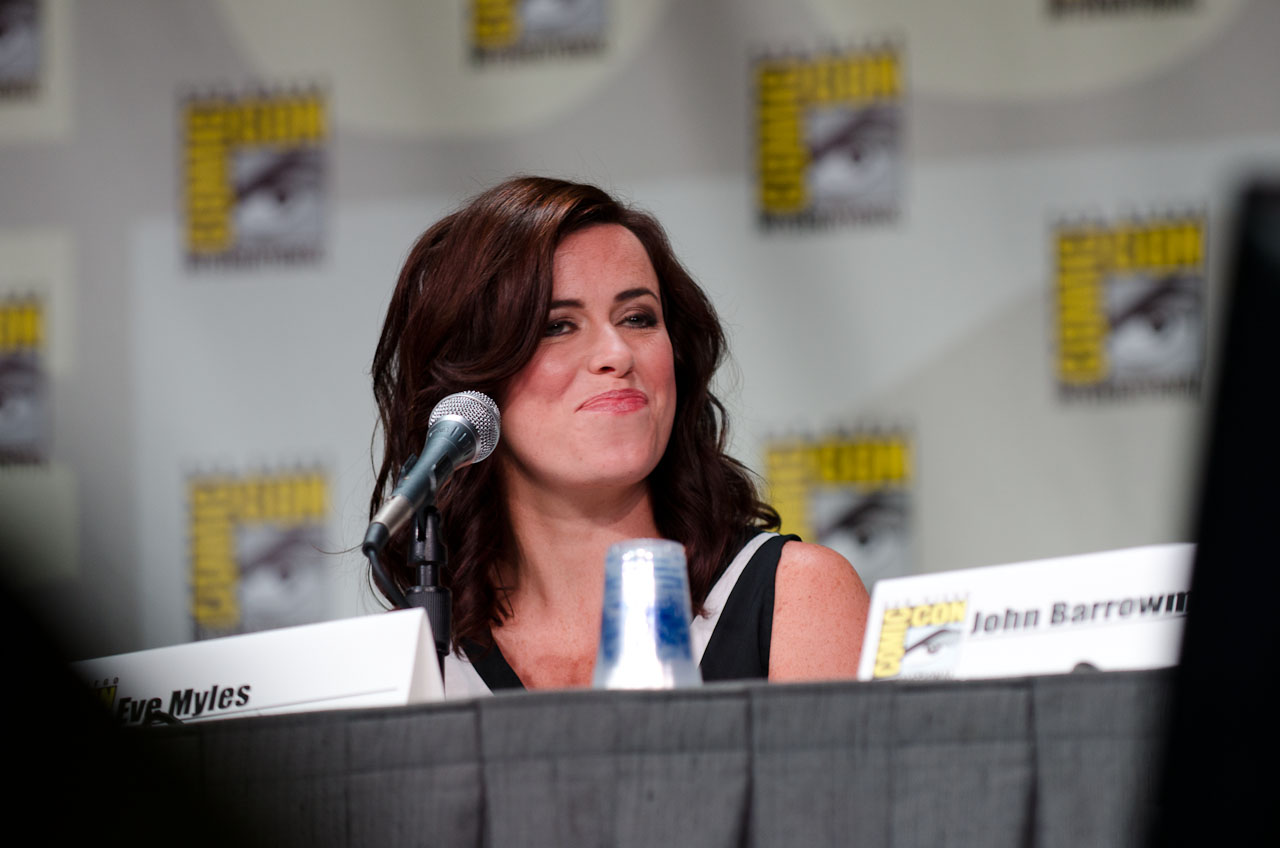 A quick summary of Miracle Day: It's a day when no one dies. A CIA agent Rex Matheson (Phifer) is impaled through the heart by a rod during a car accident. The execution of a convicted child murderer/pedophile (Pullman) fails. However, Captain Jack, unique in his very immortality, suddenly finds himself vulnerable. At the roots of Miracle Day is a global conspiracy that brings together Rex and his CIA colleague Esther (Havins) with the surviving members of Torchwood, Gwen (Myles) and Jack, to solve the mystery.
Much of the panel was spent reflecting on Torchwood's past and how it affects the show's future. The character of Ianto, who prompted much fan uproar when he was killed in Children of Earth, was brought up. Barrowman says, "In a drama, you have to do things that will upset people and cause change. Eve and I get letters in the mail. It wasn't our fault! He is still remembered and mentioned. As Russell said, it was the right move to shake things up a bit. The fact you got upset is exactly the response that we wanted." But, John adds, "Jack will have a new involvement in Episode 7. You learn a lot about Jack and Gwen in that episode. Eve and I say that that episode is a gift. It was a exceptional episode to do, we got to dig deep into Gwen and Jack."
Pullman, arguably the biggest name on the panel, says Episode 5 has "a lot of weird parallels with Independence Day. It has such scale and ambition, and it's such a global story. How people from every corner of the Earth can either find each other or turn on each other."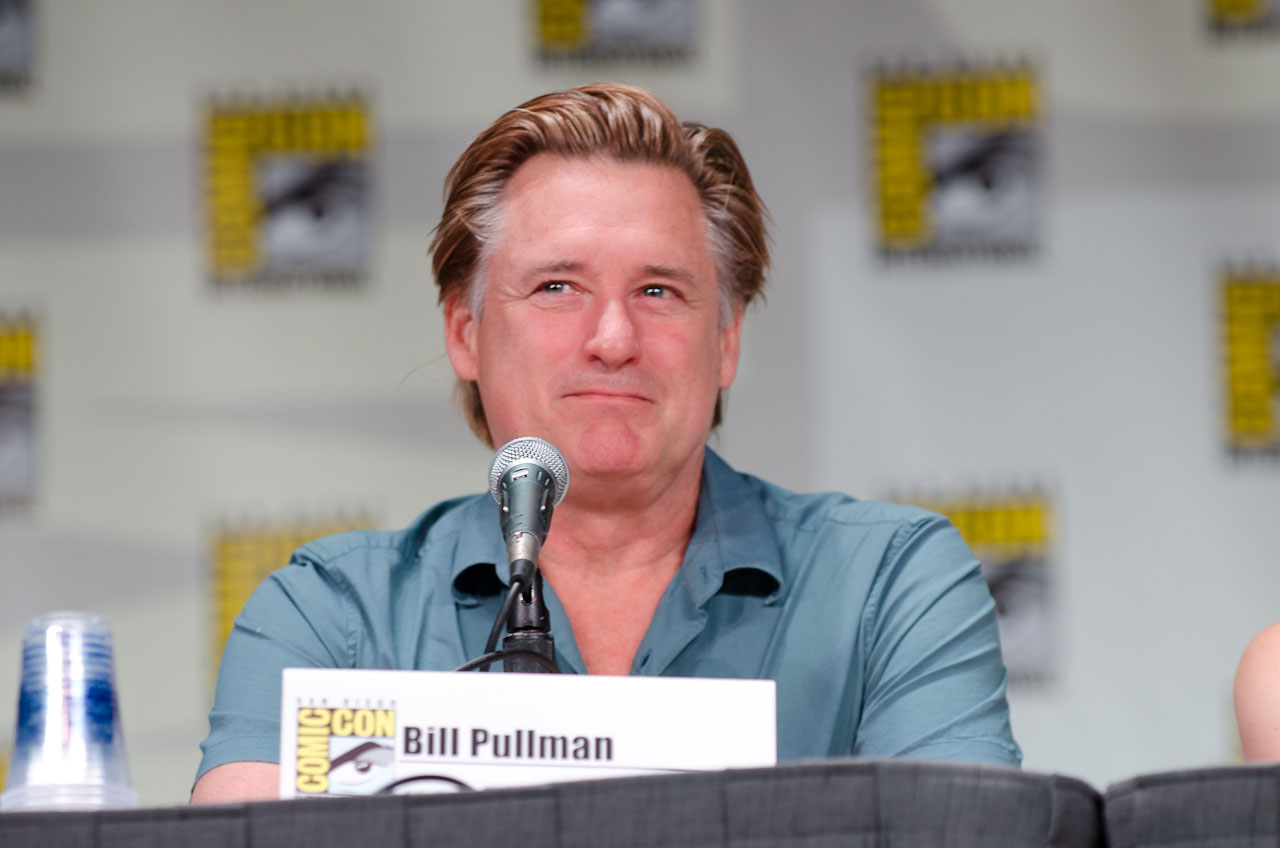 Jane Espenson adds that anyone who thinks Miracle Day couldn't possibly top Children of Earth in utter bleakness, watch the fifth episode. "If you are hungry for dark chocolate, and you've been getting milk chocolate, wait for Episode 5."
"They call me dark chocolate sometimes," Phifer quipped in response. The former ER star admits to never having watched Torchwood before receiving the casting call, but he says he became hooked when he watched Children of Earth all in one sitting. He has become accustomed to the show's frank depictions of sex. "It seems very intimate when you watch it on TV. They try to have a closed set. It's Torchwood, so they try to show a butt cheek or two."
Meanwhile, Barrowman has relished the opportunity for a little man-on-man action in Miracle Day. When his partner Scott asked him why he was so "bubbly" before work, he said, "Well I get to go have sex with a 22-year-old." (That scene aired on Starz this past weekend.)
All that sex talk prompted this little dance routine, which has quickly become a viral animated GIF:
As for the future of Torchwood past Miracle Day, Barrowman says, "There's no word yet. The more you watch it, the more chance we have of coming back. We'd love to do Torchwood for another four, five, six seasons."
Of course, we saw Captain Jack first on Doctor Who, and in yesterday's TV Guide panel, Matt Smith revealed that he'd love to have Mr. Harkness back in the TARDIS. Barrowman shares this sentiment: "Torchwood and Captain Jack were born from the mothership, which is Doctor Who. I think it would be great, and for the 50th anniversary in [2013], I think it would be a disappointment for a character like Captain Jack not to make an appearance.
"I've spoken to Steven [Moffat], [Torchwood creator] Russell [T Davies] thinks it would be a great idea, I'm totally up for it.
"It's the best coat I can put on every morning."
Read More
Filed Under: